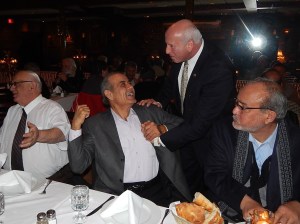 PATERSON – The mayoral candidates hit the streets last night, with political intrigue hanging over the city and just over two months to go before Election Day.
In the basement of Toro's at the edge of the 6th Ward, former 2nd Ward Councilman Aslon Goow stood up in front of a crowd of mostly Arab Americans and said he's the law and order candidate in a still-fluid 12-person contest in Paterson, where "the current administration is so bad," according to the candidate, "anyone and everyone thinks they can be mayor."
A 12-year veteran of the council when he lost his re-election bid in 2012, the Haledon special policeman said Paterson doesn't have potholes.
"We have minefields," he clarified, taking the microphone from event organizer Mahmoud Attallah. "Gang shootings, open drug markets. The cold weather kept people inside for a while and the shootings went down. The first nice day we had where it was 50 degrees and two people were killed.
"What are we going to do, depend on the weather to fight crime?"
Claps sounded in the room.
Then Attalah stepped up and surprised the audience with an impolitic political question.
Amid all the jockeying among the candidates who have, might, or might not file to run for the mayor, the community leader asked Goow point blank to refute the notion that Goow's running without an intention of winning.
"Did you make a deal to be a spoiler?" he asked the candidate. "I want you to put these rumors to rest."
There was silence in the room.
Goow had already taken a number of hard-hitting questions.
"I thought these guys were my friends," he later cracked.
Focused on crime throughout the interview, Goow said he wants special police, neighborhood precincts and a restructuring of the police department with a chief who lives in Paterson. "Because he presently does not live here," Goow said.
But Attalah's question struck a citywide note.
In a cat and mouse mayoral contest right now where many declared candidates have yet to file petitions, Goow isn't the only Arab American seeking support.
There's also Council President Andre Sayegh of the 6th Ward.
Goow and his backers say U.S. Rep. Bill Pascrell (D-9) has already anointed Sayegh as Paterson's next mayor. A doctored photo continues to circulate on Facebook showing a Pascrell "court" presiding over Sayegh's "coronation."
"My community shouldn't be told what to do by Bill Pascrell and [State Democratic Party Chairman] John Currie," said Ernie Rucker, an African American in attendance in vigorous support of Goow. "They have crowned the next king of Paterson, and that's not the way it should be."
Ethnic bases translate into vital political building blocks in Paterson, home to 52 different ethnic communities.
Right now, candidates representing specific areas of interest are trying to gracefully elbow their community rivals aside to be the sole representatives of each group in question.
In this case, Goow wants to smother Sayegh to solidify Arab American support.
In last night's room at least, he stood among friends, staring with Attalah, his most vociferous supporter.
"I was in my car the other day and a guy pulled a gun on me," said Attalah, a Palestinian American businessman who moved from Paterson to neighboring Clifton but still maintains his connections to the Arab community.
"I floored it. When I told a cop about the incident, he looked up at me and said wearily, 'good thing you survived,'" he added.
Attalah believes Goow can best confront Paterson's public safety problem, and he's not alone.
"In my 41 years in this city I have met a lot of people in Paterson. Good and bad. And most of them are bad," joked community activist Mike Hammam. "I urge you to talk to this man. He is not a clown. He is not a chameleon. He doesn't shoot from the hip. He speaks from the heart."
School Board Member Corey Teague told the crowd that God sent Goow to do the work of mayor. Later, he mentioned to PolitickerNJ that he's assessing his own run for council in the 1st Ward on a Goow ticket.
Goow doesn't mind taking specific aim at Sayegh.
"He screwed me," he said of the council president. "I championed Andre for school board years ago and he would introduce me to people as 'the mayor of Paterson.' He lost the election, and when I ran for mayor in 2002 and went to him for support, he didn't back me."
Goow said Sayegh never learned how to wait his turn, pointing out that Sayegh's 2010 run derailed Torres and led to sitting Mayor Jeff Jones, who's been a disaster, in Goow's view.
Talk to anyone in Paterson politics, though, about Goow and friends and enemies alike will say he has one overriding problem right now.
He lost his council seat.
The strong man looks politically weak, they say, having twice been conquered and supplanted on the Council by Bangladeshi American Mohammed Akhtaruzzaman.
But with so many people in the race and each community facing its own internal clashes, Goow appears to be a player as long the field stays wide in a race with no runoff election.
Top vote getter wins. Period.
Viewed as the leading Latino candidate in the mayor's race, former Mayor Jose "Joey" Torres faces not only a nagging, disastrous storyline about how he took a $74,000 severance payment just before he left office in 2010, but at least two other Latino candidates in the race: Maria Teresa Feliciano, who this week locked up an endorsement by the Latino Leadership Alliance PAC, and Councilman Rigo Rodriguez.
Still, Torres has a base.
"He could be in handcuffs on Election Day and his supporters will back him," a source said.
African American incumbent Mayor Jones faces health director Donna Nelson-Ivy and David Gilmore, where his incumbency, according to one insider, gives him an advantage in consolidating church and other Black communal support.
"I'll be surprised if Nelson-Ivey and Gilmore end up filing petitions in the end," a source told PolitickerNJ.
Goow's chief community rival right now, Sayegh already filed.
"It comes down to me and Andre," not just among Arab Americans but citywide, he insisted. "Jeff's done. And Joey – don't get me started."
Seeking voters on the other side of town, Sayegh last night bounded up the carpeted stairs in the Brownstone at the annual Jordan Sisters' scholarship dinner, an African American event that packed the second floor's grand banquet hall.
The council president worked the massive room – twice.
Torres sat in the crowd.
Jones made an appearance.
"I'm not here to focus on other candidates," Sayegh said. "I'm here to touch as many people as possible."
What about the knock that he won't have independence from Pascrell?
"Congressman Pascrell is my political mentor," he said of the former mayor.
Underground, back at Toro's, Goow cast himself as the substantive elder statesman with a knack for visibility and accountability.
Going through the questions about crime and how to bring business back to the city, he noted, "If I don't prove myself I won't be like this mayor down in Trenton, hanging onto office. I'll resign. I'll be man enough to step down if I can't do my job."
Then Attalah asked his stalking horse question and everyone leaned forward.
The silverware stopped clinking.
"Absolutely not," Goow said in response. "Are you kidding me? Five mayoral candidates have offered me a job already. Not happening. And I will not take a job from the mayor in the City of Paterson if I don't get elected mayor."
Attalah led the applause.
Goow was well received here all night.
Clapping with the rest, an off duty law enforcement officer at one of the packed tables told PolitickerNJ, on condition of anonymity, that he loves Goow – an indisputably hands-on guy.
"Let me tell you something," said the cop, "I've been in a uniform for 28 years. And when I was a rookie, I was driving home one night and I ran into Mayor [Marty] Barnes, who told me to get out of my car and go with him to stop a burglary in process. I was just a kid. I left my gun in the car, I was so nervous. This was the mayor."
Barnes pulled out his own .38.
When the two of them went into the house, the burglar jumped out a second-story window.
"The point I'm trying to get across is the mayor was out there in the streets personally fighting crime," the cop said, pointing a finger down the length of the table at Goow. "He'd be the same way as mayor, and frankly, that's what the city needs."