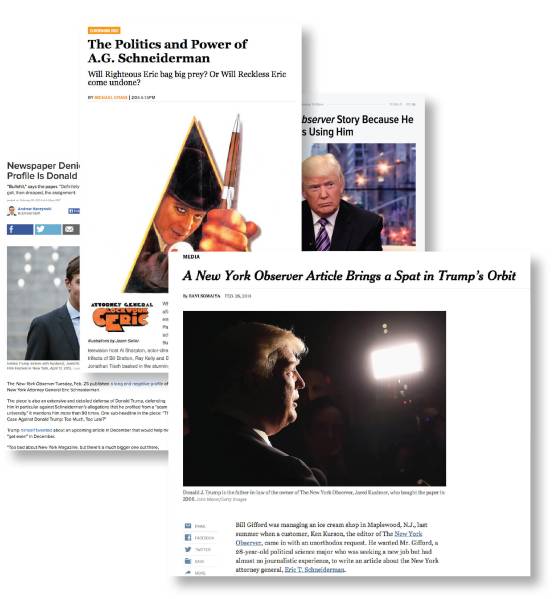 It has mostly been the Observer's policy to let our stories do the talking and not get caught up in the ensuing discussion we hope to create. However, the reaction to this week's cover story, The Politics and Power of A.G. Schneiderman, has been so intense—and so filled with misinformation—that we wanted to shed light on a few elements.
So let's talk about the "ice cream guy" – that's Bill Gifford, the Maplewood, NJ, ice cream store employee who the Observer initially assigned to write its profile of Mr. Schneiderman.
After the Observer story appeared, Mr. Gifford was first interviewed by BuzzFeed reporter Andrew Kaczynski and subsequently by the New York Times, which wrote that Mr. Gifford "became convinced that the article 'was supposed to be basically a smear piece' and he quit the job."
The Observer declined to answer Buzzfeed's initial inquiry about Bill Gifford because we are not in the habit of asking writers who do not write for the paper to comment on stories they did not write.
But now that Mr. Gifford has taken it upon himself to rewrite history, we wish to clear up a few details. BuzzFeed and the New York Times portrayed the ask as if I walked into my local ice cream place one summer night and said, "Hey, I've got an idea — how about the kid behind the counter can be a hit man journalist." Gawker's story Wednesday night said that I "randomly offered him the freelance assignment." That's not what happened. Here's what did happen.
In January, 2013, I was new to the Observer and looking for smart young writers. A friend and neighbor who is also an esteemed, longtime journalist said, "You know that guy at the ice cream store, Bill? He's actually an experienced political operative who's worked for a couple Democrats and he's trying to do some writing."
The readers commenting on the Gawker stories may be picturing a pimply faced 19-year-old kid. That's incorrect – Mr. Gifford is almost 30 and he's married.
In mid January, 2013, I was in the ice cream shop in Maplewood, NJ and told Mr. Gifford that our mutual friend had recommended him as a writer. "Are you interested in maybe doing some freelance writing for the Observer?" Mr. Gifford was extremely enthusiastic. On Jan 31, 2013, Mr. Gifford came to the Observer offices in NYC, where I interviewed him for a job.
Mr. Gifford even asked the mutual friend to put a word in for him, which the friend did. That job went to someone else, but Mr. Gifford pitched the Observer other ideas. That was six months before any of the Schneiderman stuff. So the idea that the Observer hatched the idea for a Schneiderman hit piece and then "randomly offered" it to some unknown ice cream guy is just wrong – this was a fellow I'd been getting to know for six months.
Here are ALL of the emails Mr. Gifford and I ever exchanged, included in full, unedited. First is a screencap of the unedited email exchange between Mr. Gifford and myself that followed that interview (newest emails on top).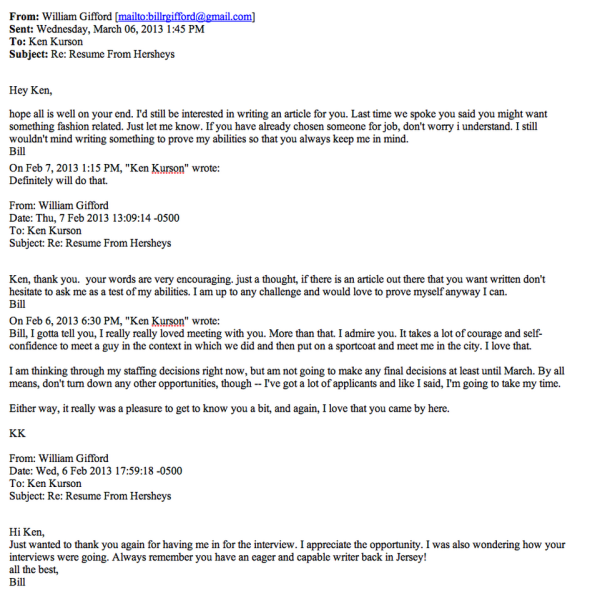 Mr. Gifford persisted in discussing writing for the Observer. The email below, again unedited, shows an unsolicited idea Mr. Gifford sent to me in June, admirably trying to stay top of mind, and also displaying his knowledge of city politics by referencing a nuance of the Democratic primary.
Later, in mid-summer, after Mr. Gifford and I had talked about a half dozen other ideas, I thought of Mr. Gifford for the Schneiderman article specifically because Mr. Gifford had political experience and because he had worked in Democratic politics, knowing that the story was vulnerable to charges of nepotism and partisanship.
I don't recall discussing anything negative about Mr. Schneiderman with Mr. Gifford. I categorically deny telling Mr. Gifford to reach any specific conclusions. On July 22, I sent Mr. Gifford some background materials. As is plain from the below screen cap, my email had no text beyond "good talking to you," no opinions, no instructions – just links to articles. I remember sending Chris Smith's long profile from New York magazine, plus whatever else came up in a Google search. One of those articles was a story from some blog called "Is AG Eric Schneiderman Dirty?" Here's a screen shot of the full exchange.
Got that? Mr. Gifford wrote:
<<Started reading the articles. I love the substance already. This guy is definitely dirty. Cannot wait to get started. I'll call you in the morning>>
Does that sound like someone who was pressured to reach a particular conclusion?
A week and a half later, Mr. Gifford texted me out of the blue and said he had to quit the story.
He later told me in person that he had hopes of one day going to law school and thought interacting with the AG's office on this might be bad for him. I have no knowledge of Schneiderman spokesman Damien LaVera saying anything to Mr. Gifford that should have caused him to be spooked. I will say, and it's evident in the 92 pages of documents the Attorney General's office provided to Gawker, that my own interactions with Mr. LaVera were occasionally tough but always professional and sometimes even respectful on both sides.
I saw Mr. Gifford at least a dozen times after he resigned from the story. Mr. Gifford never once expressed any kind of bad feelings or sense that he was being "used." Never. He couldn't have been friendlier. He also never pitched additional stories or asked about writing again.
So that's the story of Bill Gifford, the ice cream guy in Maplewood, NJ.
There's a post script. Last night, Bill texted me. He apparently intended to text a relative. Here's what he said: "hey uncle Kenny this is on the front page of the business section in the times today – thought you might find it interesting" with a link to the Times story.
It has been disappointing to see so many Manhattan media elites giggle over the fact that a story of such importance would ever be entrusted to a – gasp – guy who works at an ice cream store. No one has yet to explain what is so wrong with a guy working a side job while he tries to establish a career in journalism. I worked at Baskin-Robbins for two years when I was young, and I remember dreaming about writing and creating and a brighter future. I liked the idea of giving a break to someone with ambition.
Even if it doesn't always work out, the Observer will continue to find and foster talent in young writers who want to do great things, be they waiters, baristas or yes, ice cream shop employees.
One last note. Despite the many stories and tweets and ad hominem snark, no one has challenged any facts of the story. Not one. With all the coverage, all the ludicrous suggestions that the Observer's publisher or his father in law "ordered up" a story, no one has challenged the reporting. And the Attorney General's office hasn't asked anything be corrected.