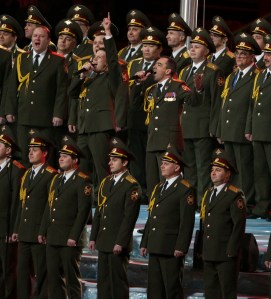 Unfortunately the Olympics do not feature competitive singing. But there is no doubt, if such a sport existed, that the Russian Police Choir's surreal performance of Daft Punk's "Get Lucky" at the opening ceremony in Sochi would win gold in that category.
There is so much enjoyment to be had in watching this musical act (which you can see on NBC) that it's hard to pinpoint the one thing in particular that makes it so great. Is it the seemingly joyless old man in the back, the one with the watery eyes, who brings us so much pleasure? Is it the mustachioed fellow with the permanent grin and the oversized hat who makes us smile? Perhaps it is the way the two main singers do their creepily flamboyant dance with such confidence, their yellow aiguillettes dangling seductively off their shoulders. (Also, why aren't they wearing hats? It's not clear, but it's perfect.)
Is it that the choir actually needs a conductor, who stands before them emotionlessly waving his arms to the music? Is it that the group, formally known as the Russian Ministry of Internal Affairs choir, has perfected its act—a performance it did of the same song went viral last year—for the world to see? It must be all of those things.
"We're up all night to get lucky," go the lyrics of Daft Punk's Grammy-winning hit.
But the Russian Police Choir didn't need all night. Four minutes was all it took for these foppish fellows to steal the show.