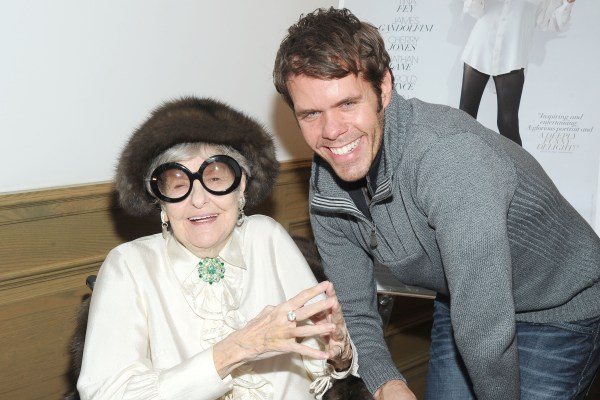 "After the movie's over, she will be here answering your questions," spluttered entertainment troublemaker Perez Hilton to an "animated" (read: gay) audience at the Crosby Hotel's theater last Sunday. Shindigger and others had gathered for a sneak peak at Elaine Stritch: Shoot Me, featuring the bawdy Broadway legend, back in Manhattan two years after allegedly retiring to sedate Birmingham, Mich., the town of her youth. 
"There is a reception outside," the hapless Mr. Hilton continued, "where, um, she'll be and you can maybe not harass her, I don't know." As host, Mr. Hilton would prove an atrocious mismatch to the sizzling theatrical stalwart, before mercifully passing the mic to the considerably more articulate Chiemi Karasawa, who directed the film.
"You should always listen to your hairdresser," Ms. Karasawa began, recounting how one day at the salon where she gets her tresses tended, she noticed a familiar face in a nearby chair. 
"I said, 'Is that Elaine Stritch?'" Her hairdresser confirmed it was.
"'You should make a documentary about her," Ms. Karasawa quoted him as saying. "Now that would be a film."
It was, and is. As Ms. Stritch looks back on her storied career (including her long, beloved residency at the Carlyle Hotel and her more recent role as Alec Baldwin's fiery mother on 30 Rock), the Tony and Emmy winner is both beguiling and venomous.
 "Look, I've got fame, I've got money; I wish I could fucking drive!" Ms. Stritch spits as we see her zipping around Central Park in a knee-length leopard-print fur coat. At one point, she bumps into a former Broadway cast member whose new gig isn't quite as cushy.
"This business sucks," Ms. Stritch comments brusquely.
Her 30 Rock co-stars remark on Ms. Stritch's lively persona.
"We know what to expect," Tina Fey says, shaking her head. "Every time she arrives, whoa, here comes Elaine!" Ms. Fey pointedly adds that Ms. Stritch tends not to wear pants.
In another clip, we witness Ms. Stritch on set ready to film a 30 Rock scene.
"Who are we waiting for?" a producer calls out.
"Young Alec Joan Crawford Baldwin!" Ms. Stritch gripes, to laughs from the crew.
The most compelling part of the film concerns Ms. Stritch's struggle with alcoholism. At one lunch, she illustrates her one-drink-per-day quota by pulling out a baby bottle filled with gin. Drinking, she explains, is an escape, "a warm, inviting heaven," from the anxieties of the theater. We also see her battle with aging, in one instance forgetting the name of Bernadette Peters, her co-star in A Little Night Music, who she calls Nanette Fabray. ("Don't cut that," she instructs the filmmakers. "I want her to see that.")
"She's irreverent and feisty, but she's got the guts of a jailbird," comments Broadway producer Hal Prince. "You learn to put up with it. She's worth it."
Reception to the film was giddy.
"I expected a huge theater," Ms. Stritch sniped as she was wheeled onstage in a full-length mink. "This looks like a children's theater."
Fans were desperate to ask questions.
"What is your aversion to wearing pants?" asked one.
To which Ms. Stritch seemed nonplussed. "Who made that up?" she barked. "Who said I don't wear pants?" From there, it was downhill, albeit hysterically, and the Q&A drew to a quick close.
"We're all going to have drinks outside," Ms. Stritch concluded. "Except that man who asked the question about the pants."
On Thursday, drinks were flowing at a benefit for the Smithsonian's Freer-Sackler Galleries hosted by Reem Acra, whose gorgeous pre-fall 2014 frocks were on display. With the subject of retirement on our mind, Shindigger decided to ask the guests where they would spend their golden years—that is, if they understood the concept of retirement, since it was safe to assume few of them had ever worked.
"I cannot even think of retiring or where to go," Ms. Acra protested. "There are so many great places: Dubai, Italy, New York, Lebanon. I am not done traveling." She went off to greet an acquaintance inspecting one of her vintage Arab garments.
A few days later, at the Museum of the City of New York Director's Council Winter Ball, co-hosted by furrier Dennis Basso, Shindigger asked Prince Dimitri of Yugoslavia where he would spend his elderliness.
"Probably in Tuscany, provided Italy doesn't sink into chaos by then," he replied. Garbed in bespoke Cifonelli black tie, Prince Dimitri spent the majority of his evening in the company of friend Stephanie Foster. 
Social bee Chiu-Ti Jansen went with a dramatic fire-engine-red Oscar de la Renta taffeta gown for the affair. Asked the same question, she exclaimed: "Hands down, southern France. I can have bouillabaisse or bourride à la sétoise, baguettes and a bottle of local wine every day!"
Red-carpet dress designer Romona Keveza, who is busy preparing looks for Oscar-night consideration, couldn't quite fathom slowing down. "I'm doing what I plan to do for the rest of my life," she averred—and even if she did retire, she declared, she wouldn't move an inch: 
"New York is the best place in the world. There is no place I'd rather be."
You said it, sister. Now go tell Elaine Stritch.