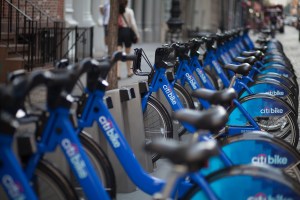 The training wheels are off. 
Ronald Corwin, 73, is suing Citi Bike and New York City for a whopping $15 million in what seems to be the first big personal injury lawsuit against the bike share since the system's launch last May.
The Westport, Connecticut man filed the lawsuit after hitting a concrete barrier near a Citi Bike docking station on East 56th Street near Madison Avenue. He claims he flipped the rented blue bike and came crashing down, resulting in nerve damage. 
Mr. Corwin claims he can not taste or smell as a result of his October injury.
"Everything tastes like cardboard," Mr. Corwin's attorney told the Daily News. "It's terrible. He's lost the pleasure of tasting food and of literally smelling the roses."
Citi Bike's contract with the city protects the city from claims, placing responsibility for lawsuits solely on the operator. The city declined to comment on pending litigation. 
The lawsuit claims Mr. Corwin didn't see the 6-foot wide, 6-inch tall "wheelstop" because it blended in with the road.
Although there weren't any cones or colored markings to indicate the concrete barrier at the time, both were implemented after another man went airborne after a run-in with the same "wheelstop" later that month.
Sounds like this "wheelstop" has been taking its job a little too seriously.