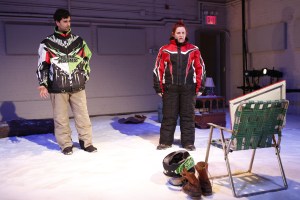 If you're going to object to Almost, Maine—that it's too saccharine, too sentimental, a little too impressed with its own quirkiness—then its title is as good a place as any to start building your argument. An interlocked series of vignettes about relationships, the play is set in the fictional northern Maine town of Almost, which even in its fictional version doesn't quite exist, a colloquial name for an unincorporated hamlet. Things transpire there with just a touch of surrealism—in an almost normal way—and the people in it can almost find each other, find love, find happiness. It's almost too much, but maybe not, either very cloying or very charming.
Almost, Maine, written by John Cariani, an actor and playwright, debuted in New York eight winters ago, with a one-month run at the Daryl Roth Theatre on Union Square. Since then, it has been widely produced in regional productions around the country and the world. Now it's in its first New York revival, a Transport Group production that opened last night at the Gym at Judson, on Washington Square Park. It's a play about the hunt for love, told via a small town's worth of awkward people awkwardly trying to find it, nine couples in 11 whimsical scenes making connections, breaking hearts and occasionally whacking each other in the head with an ironing board.
And at Judson, it's entirely charming.
In large measure, that's thanks to an excellent cast, four actors playing 23 different roles, each one distinct and convincing, all lived-in, down to earth, real. Mr. Cariani is one of the actors—in the first scene, a geek who may have just said the wrong thing to a woman who tells him she loves him, by pointing out that on our round Earth, being as close as possible to someone on one side also means being as far away as possible if you take the long way around. He plays a total of six characters, including a lovelorn man with an awkward tattoo, a loner who was born unable to feel pain and a snowmobiler in lots of layers who harbors a crush on his female coworker and snowmobiling buddy.
Donna Lynne Champlin, Kevin Isola and Kelly McAndrew also play a similar variety of roles, similarly well. There's one same-sex scene, played by Mses. Champlin and McAndrew at the performance I saw and by Messrs. Cariani and Isola at other times, in which two lonely best friends realize the one person right for them is the other. But what's most fun about the scene isn't the politics but the staging: When one person falls for the other, she literally falls, barely able to stand back up; eventually, the two women (or men) are flopping across the stage, standing and falling and trying to reach each other. It's corny, sure, but it's also a little bit hilarious.
That's the line this production walks so well: corny but hilarious, sweet but not quite cloying. It's directed by Jack Cummings III, Transport's artistic director, and he gives the evening that sure, easy touch. He keeps the tone light and relaxed, and, winningly, he has the cast underplay the script's whimsy rather than driving it home. Layered in parkas and hats on a snow-covered set barely illuminated with blue-gray winter light, these Mainers look, quietly, for love and connection, and they often even find it. (The set is by Sandra Goldmark, lights by R. Lee Kennedy, and costumes by Kathryn Rohe.) This makes Almost, Maine a fairy tale, or a collection of them, and it's quiet enough, subtle enough, funny enough—and so well-timed for this dark, snowy New York—that we believe.
Bertolt Brecht's A Man's a Man, on the other hand, isn't a fairy tale but an allegory, and a dull one. It's about the depersonalization and inhumanity of war, or of empire, or maybe of modern society. Set at a British army outpost in the Indian Raj, the play follows a group of soldiers and hangers-on as they muddle their way through everyday life there and, ultimately, prepare and execute an invasion of Tibet. The title isn't a Hemingwayan assertion of masculinity—a man is a man—but rather a quasi-Marxist recognition of interchangeability, that a man is just a man, replaceable by any other.
In the production that opened at the Classic Stage Company last week, directed by Brian Kulick, CSC's artistic director, the transgender performer Justin Vivian Bond plays the local procurer, the Widow Begbick. She's instrumental, for a fee, to the group of soldiers who dragoon Galy Gay (Gibson Frazier), a doofus of an Irishman, into standing in for their temporarily missing comrade during roll call. Soon enough, Gay has abandoned his wife, abandoned his identity and transformed into Jeriah Jip, the soldier for whom he was standing in, leading an attack on a Tibetan temple. A man is just a man, after all, interchangeable.
There's a new score, by Duncan Sheik, and the periodic musical breaks are the best parts of this show, with smart lyrics, funny choreography and Bond, who has a background as something of a chanteuse, in fine form. But otherwise, Bond's performance is unremarkable, as is the rest of the production, which takes its audience on a long march for a little payoff.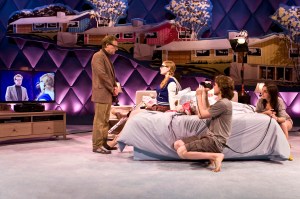 There's plenty of payoff in Thomas Bradshaw's new Intimacy—if by "payoff" you mean a certain graphic sort of sexual fulfillment. There are orgasms aplenty in Mr. Bradshaw's latest in-your-face play, which opened last week at The New Group, fountains of semen shooting across the stage. If what's lacking is much in the way of theatrical pleasure or dramatic satisfaction, well, that seems not to be what Mr. Bradshaw is interested in providing.
Intimacy explores just that—the intimate relationships between lovers, families and neighbors—in Anytown, America, in an era rife with technology and, more to the point, pornography. We're in an idyllic suburban community, where overlapping scenes transpire on bland matched-set interiors (dinettes, sofa sets and so on), and the upstage wall depicts a stylized row of split-levels. (The set is by Derek McLane.)
But lurking within that bland setting are a bunch of dirty pervs: aspiring filmmaker Matthew (Austin Cauldwell) just wants to make porn; his born-again father, James (Daniel Gerroll), can't stop masturbating; the nice neighbor girl, Janet (Ella Dershowitz), is an adult-film star; her parents, Jerry (Keith Randolph Smith) and Pat (Laura Esterman), watch and critique her videos, when they're not exploring anal sex; the contractor, Fred (David Anzuelo), is secretly bisexual and pines for Matthew; Sarah (Déa Julien), his daughter and Matthew's girlfriend, is saving herself for marriage but is an enthusiastic practitioner of frottage—and is happy to share her boyfriend with her father. Ultimately, of course, they all star in Matthew's porno.
The idea, I imagine, is that Mr. Bradshaw wallows in all this depravity in order to break open expectations about it, to force us, in some way, to confront society's hypocrisies, just as he revels in stereotype-busting-slash-reappropriating ethnic clichés like the Latino contractor eventually lazing around with a banjo. By the end, natch, making the porno has brought them all closer together.
But the production's staunch determination to offend gets in the way of whatever point he's trying to make. There's on-stage masturbation and (simulated) fellatio, quasi-incest and a substantial, graphically audible bowel movement, plus all that semen. Mr. Bradshaw's frequently hackneyed, lazy dialogue—I suspect it's intentionally written as such, though I can't figure out why—only compounds matters, and Scott Elliot's plodding direction, especially in the first act, doesn't help matters, keeping the tone of this ridiculous story flat and unaffected, not arch and slapsticky.
Intimacy is a horny teenager's view of the world, and it's an adolescent piece of theater.