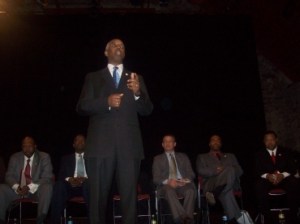 In one of the most elaborate political pickles in recent memory, the Trenton Mayor's contest has a small but firm choke-hold on the CD12 race in Mercer County.
Operatives are in long coats right now trying to figure out what to do.
It's a complex situation, and involves players who were already up to their elbows in local rival campaigns when U.S. Rep. Rush Holt (D-12) shocked the state with his announcement to The New York Times last week that he wasn't running for re-election.
The news forced people to re-examine alliances, starting at the local level.
On the surface, there was little indication of any underlying torment.
State Sen. Linda Greenstein (D-14) immediately jumped in the race to succeed Holt.
So did Assemblyman Upendra Chivukula (D-17).
Then Assemblywoman Bonnie Watson Coleman (D-15) entered.
The deeply Trenton-rooted Watson Coleman of Ewing Township is where it gets complicated as that reeling, crime and corruption-ridden city tries to offload and supplant prison scrubs-bound Mayor Tony Mack.
The Ewing Assemblywoman's longtime loyal operative James Gee backs Plainfield Department of Public Works Director Eric Jackson for mayor in the May nonpartisan election. Jackson values Gee, bestowing on the veteran operative the title "Jackson Campaign Director."
But Watson Coleman supports another longtime family loyalist for mayor, Mercer County Deputy Clerk Walker Worthy.
Before Watson Coleman announced her candidacy, Jackson versus Worthy looked like little more than a friendly rivalry between combatants with the Jackson people, still holding onto those five votes that separated Jackson from victory four years ago, convinced of a decided edge.
Thirty-seven ministers are on record in support of Jackson.
"Anyone running against Eric Jackson can't go to church," said a source. "If people don't see this wall is too high to climb, they're suicidal."
Pre-Holt announcement, key power players close to Middlesex Democratic Chairman Kevin McCabe threw in with Jackson. Democratic Party operative Julie Roginsky – who is close to McCabe – is a Jackson consultant.
Last week, Worthy joined a handful of important Mercer party players who endorsed Watson Coleman for Congress.
Simultaneously, McCabe was working the phones trying to seal Middlesex for Greenstein.
Now scrambling in a backroom race with the state senator for support, Watson Coleman allies labor to get Walker out of the mayor's race to prevent Jackson from sitting on his hands in the Democratic Primary; or worse, from backing Greenstein.
Gee wouldn't let that happen, a source told PolitickerNJ.
But it doesn't squelch the headaches.
Even as he leans on Gee, Jackson has a very simple protest, according to sources: why should I back Watson Coleman when she is backing someone running against me?
A source told PolitickerNJ that the message to Worthy is straightforward enough: abort; why give Jackson the opportunity to toy with Middlesex and Greenstein?
Get out of the mayor's race, is the message to Worthy, and let the front-running Jackson back Watson Coleman.
A source close to Jackson said the communication has not been as explicit as face-to-face talks. The ministers lining up behind Jackson sends a suffocation message, the source said.
Or Jackson could cut loose from Middlesex and, in the words of one insistent local operative, "just back Bonnie."
Walker has a scheduled March 6th fundraiser and insiders are watching.
Jackson has another interesting tie to the developing Congressional contest.
He works for the City of Plainfield, which hired him on a nod by Assemblyman Jerry Green (D-22), who also happens to be the chairman of the Union County Democratic Party, and the man a lot of insiders in CD12 are watching now as he tries to make up his mind about who to support: Watson Coleman or Greenstein.
McCabe sat down with Green him early, and tried to convince him of the need for a Union-Middlesex partnership.
But Green had other angles he had to worry about, too, like the one in Trenton.
He and Jackson are allies.
How would Green's support for Greenstein impact Jackson?
According to a source, if Worthy exited the race, Green would find himself closer to Watson Coleman owing to an easing of Jackson's path to City Hall.
But if Worthy remained, Green could perhaps find himself closer to Greenstein.
As Green mulled, Plainfield Mayor Adrian Mapp hit go earlier this evening on his own Watson Coleman endorsement.
Dumped years ago from the county organization line, Mapp repackaged himself as an anti-establishment New Democrat on the local political scene, ran for mayor four years ago against incumbent Sharon Robinson-Briggs, lost, then forged an alliance with Green when the latter tired of Robinson-Briggs.
The two men won their elections last November in a showing that provided all the optics of two rival camps finally coming together for the good of Plainfield.
Then they never spoke again – until today, after Mapp jumped out ahead of a finesse-minded Green and put his stamp of approval on Watson Coleman.
Sources say Green was irritated.
The chairman had carefully scheduled a March 5 special convention to allow all party leaders to weigh in on the county's endorsement in CD12.
Given the politics in Trenton and the Jackson-Worthy situation as it related to Watson Coleman, it was an oversimplification to conclude that Green would simply throw in with the African American candidate in the contest with an eye to shoring up his base in Plainfield, according to a source.
There were complex inter-county politics on the line.
Intent on proving he won't be told what to do, Mapp made his move, but tonight, party sources say, the Plainfield mayor's play could complicate an already backroom bruising post-Holt CD12.