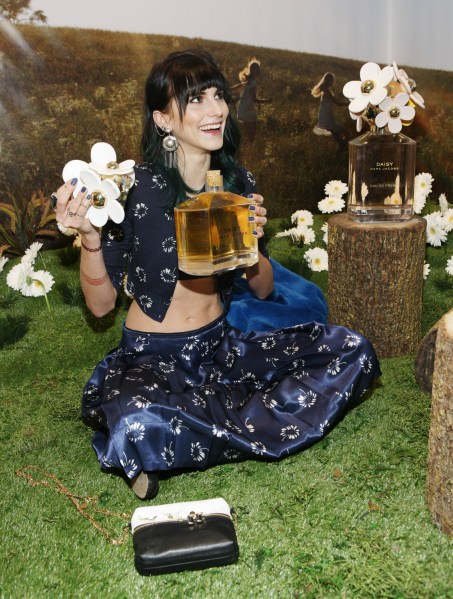 Successful fashion/tech mashups are tough. Maybe it's because fashionistas and code monkeys don't mix, or because the luxe feeling of a silk Hermès scarf can't be simulated via Android. Still, once in a while, the two industries blend seamlessly. This post is part of a series on tech and fashion collabs that got it right this Fashion Week.
Last night in a room full of more faux fur than a Furby factory, Marc Jacobs gave away fragrance minis for the low, low price of one tweet.
It was a preview event for the Daisy Marc Jacobs Tweet Shop in SoHo. The airy white space at 262 W. Broadway smelled strongly of the flowery fragrance. Fashionistas tweeted and texted feverishly in hopes of winning Marc Jacobs merch while they gulped champagne.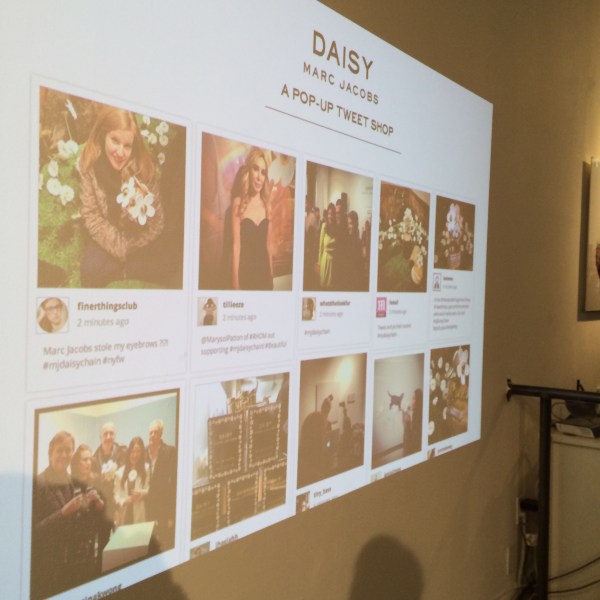 The crowd saw plenty of personal style bloggers, including Nicole Warne of Gary Pepper Girl and  Chiara Ferragni of The Blonde Salad. Sundry actresses, reality stars and socialites also abounded: Anna Kendrick caused a stir in her sparkly blazer, and Jamie Chung, Meghan Markle, Louise Roe, Phoebe Tonkin and Miami Real Housewife Marysol Patton were also in attendance.

Langley Fox's dreamy artwork covered the walls, and DJ duo The Jane Doze blasted syrupy dance pop. It was too crowded to bust a move, but we caught a few attendees swaying on their platforms in time with the music.
Some attendees got their nails done in one corner. In another corner, partygoers played and posed for photos with tree trunks, fake grass, daisies and comically large Daisy Marc Jacobs bottles. They seemed to be full of real perfume, one reveler remarked to us while trying with all her might to lift one.
As photos were snapped, social media savvy fashionistas unleashed a flurry of tweets, Instagram photos and Facebook stati bearing the hashtag #MJDaisyChain. Show the girls at the front desk your social media accomplishment, and you became the proud owner of a Daisy Marc Jacobs perfume mini of your choice — a spray bottle, a roller or a solid that doubled as a brooch and tripled as a necklace.
Everyone who used the hashtag also was automatically in the running to win a ton of MJ goodies on display toward the front, including big purses, smart wallets and shades. Judges will pick the best photos and contact the winners on social media before sending them their prizes.
The Tweet Shop is open from 11 a.m. to 7 p.m. today, tomorrow and Sunday in honor of Fashion Week. Just don't cheat by slapping #MJDaisyChain under your best selfie. No one's going to fall for that.