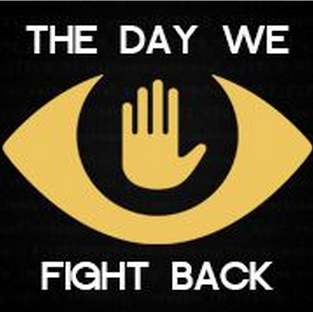 Two weeks ago, we called your attention to the forthcoming "Day We Fight Back," an Internet movement designed to fight back against the NSA's data collection program. Guess what? The day is finally here. Watch out, government.
Today, as planned, dozens of participating websites like Upworthy and Piwik are posting banners on their home pages, encouraging viewers to call up and email their local legislators and complain about the NSA.
"It's off to a great start, as we're driving in about 5,000 calls and 15,000 emails to Congress each hour," David Segal, executive director of Demand Progress and one of The Day We Fight Back's leading organizers, told Betabeat in an email. "It's helped a broad coalition solidify around this issue, and has spurred some of the major platforms to take sharper tacks on these issues — particularly Google, which sent an action alert to the activist list of several million people that it built during the SOPA fight."
Some online participants are really getting into the movement, like (unsurprisingly) the Reddit community. Currently, the Reddit home page features a lengthy "Day We Fight Back" blog post. Here's an excerpt:
"In addition to individual privacy issues, these surveillance programs are damaging for online businesses like reddit. These programs undermine the basic freedom, innovation, and economic opportunity that the Internet enables.  The potential for a business to be legally and secretly compelled to violate the privacy of both foreign and domestic users casts a pall over any U.S.-based site. In turn, this threatens to place U.S.-based internet companies, one of the most dynamic and booming sectors of our economy, at a global disadvantage."

"Fortunately, there are real opportunities for reform, but they need our support. Please consider joining us in taking action today. Together we can push back against powers that seek to observe, collect, and analyze our every digital action. Together, we can make it clear that such behavior is not compatible with democratic governance. Together, if we persist, we will win this fight."
The post also provides a nifty script outlining what wannabe activists should actually say when they ring up their local legislators, and also a list of reasons why the NSA's policies are arguably kinda stinky.
Even politicians are getting in on the action! Here's a YouTube video Senator Rand Paul posted today:
[youtube http://www.youtube.com/watch?v=zbpfelhwis8?list=UUeM9I-20oWUs8daIIpsNHoQ&w=560&h=315%5D
And unlike many cases of modern-day slacktivism, "The Day We Fight Back" will actually have a presence in the physical world, too. According to the movement's website, a bunch of anti-NSA protests are happening today in different locations across the country and around the world.
"But this surely won't be the final word," Mr. Segal said. "[W]e're going to have to escalate over months to come, and we'll need activists to persist in this fight."