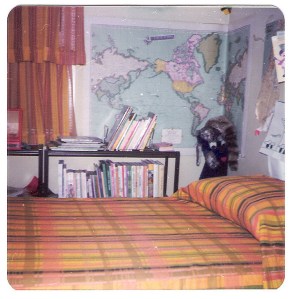 Poor millennials! A new study has found that 79 percent of them believe that owning a home is part of the American dream, despite the fact that crippling student loan debt, a disappointing job market and one missed generational opportunity after another make such a dream out of reach for many of them.
In fact, millennials are lucky if they can even rent their own homes—a full 36 percent still live with their parents, according to a 2012 study by the Pew Research Group. (In 2005, only 21 percent of 25 to 34-year-olds lived in the parental home, according to the U.S. Census).
The good thing about living with one's parents is that you can save all the money you make at your poorly paid job. That is, what doesn't get funneled into their massive monthly debt payments (the average student loan debt is now $29,000 and cannot, like a mortgage, be refinanced for a lower interest rate.) The bad news is that living with one's parents means that job options are limited to one particular metropolitan area, in which case, one has less of an opportunity to pursue the best opportunities, lacking as good opportunities are. Nor will those who spent their twenties under- or unemployed ever be to make up for those recessionary years, or so millennials are always being told.
Which all means that millennials shouldn't even really have credit cards, let alone mortgages. "Millennials have 'the worst credit habits,' and are 'struggling the most with debt management,' The Wall Street Journal reported recently, even though millennials carry much lower credit-card balances than 30 to 65 year-olds and Americans in general. Though that's largely because creditors make a point of keeping their credit limits low.
True, the study, conducted by Better Homes and Gardens among "a random sample of Better Homes and Gardens reader panelists," might not be entirely representative of the millennial generation—we doubt many twenty-something still living in their childhood bedrooms subscribe —though those subscribers who do still live in their childhood bedrooms may at least have an outlet in the form of an old dollhouse. Nonetheless, the gap between generational aspirations and realities is vaguely tragic.
The other study finding—that among respondents, 45 percent of millennials are in the process of planning or doing a major home improvement or decorating project—also lends support to the theory that Better Homes and Gardens readers are not living at their parents' place. Either that, or they are totally getting rid of that babyish wallpaper they thought looked so cool when they were 11! Just because you're part of the "stuck generation" doesn't that you can't shake things up with some new paint, right?
And even if white picket fences and deeds, paint swatches or furniture deliveries are not in millennials immediate future, the study finds that millennials still love to make Pinterest pages with home decor ideas.
"We have seen an explosion on our social media outlets of Millennials exchanging everything from swatch styles for wallpaper to outdoor decorating designs," said Jill Waage, the magazine's director for home content, in a release about the study. "This generation wants homes that reflect their individuality and their sheer size will reshape the home market for decades to come."
At least, there's likely to be strong readership for stories about decorating on a budget and making your tiny, overcrowded apartment  feel a little less claustrophobic.