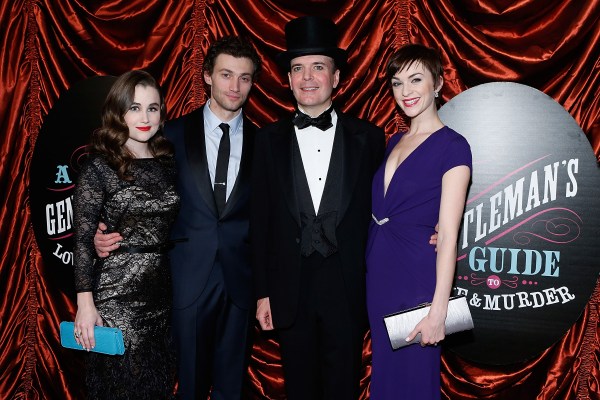 Something devilishly delightful is taking place at the Walter Kerr Theatre. A Gentlemen's Guide to Love and Murder is a saucy musical comedy about Monty Navarro (Bryce Pinkham), a commoner in Edwardian England who decides to avenge his mother's disinheritance from the well-to-do D'Ysquith family. Shindigger has few doubts that Jefferson Mays, who brilliantly plays each of the eight snooty D'Ysquiths Monty sets out to murder, will nab another Tony this year.
"When I was younger," Mr. Mays told Shindigger last week, "I contemplated self-slaughter with the intent of returning to haunt my disdainful beloved as an unruly and inappropriate ghost."
"Which is your favorite death in the musical?" we asked.
"Asquith D'Ysquith senior's quiet coronary thrombosis at his desk. It's relatively dignified and painless."
In order to play all eight D'Ysquiths, Mr. Mays must undergo lightning-fast costume changes. Shindigger asked if there had been any mishaps.
"Yes, the D'Ysquiths come and go so quickly!" responded Mr. Mays. "And it all happens in the dark. Early in the run, my dresser would whisper into my ear who I was before giving me a shove onstage."
Revenge isn't the only theme. There's also a passionate love triangle. 
"My character has his attentions divided by the girl he has always loved, who will never marry him," explained Mr. Pinkham, "and a girl who thinks he is someone he is not. Naturally, he wants both."
Could the dashing Mr. Pinkham identify with Monty's romantic suffering? 
"Sadly, I have known the pain of unrequited love," he admitted with a sigh. "But the only thing I murdered was an entire pack of Oreos."
And with that, Shindigger veered the conversation toward Valentine's Day.
"I've never been a fan, not liking to be told how to behave by the florist industry. I've often hoped that St. Valentine's martyrdom was a particularly grisly one," Mr. Mays quipped. "This year, I think I'll celebrate by being murdered eight times by Bryce Pinkham, then go home to my darling wife and dog."
A few days later, on the wet and wintry evening of Feb. 3, Shindigger was again in the company of Broadway's finest, this time at Manhattan Theatre Club's annual Winter Benefit at Jazz at Lincoln Center. While guests sipped on Montepulciano and dined on winter vegetable salads, Shindigger snuck backstage to hang out with the evening's performers.
Daniel Breaker was enjoying the weather. "I took my kid to school on a sled," he said.
"With a dog?" queried two-time Tony winner Norbert Leo Butz.
"I should have gotten a dog with a little barrel of whiskey around his neck," laughed Mr. Breaker.
Shindigger asked the two men if they were looking forward to Valentine's Day.
"I boycott it!" declared Mr. Butz. "I'm supposed to take one day out to say 'I love you' to my wife? I hope by now she knows."
"I haven't really thought about it," admitted Mr. Breaker. "I gotta get on the ball."
"You really do," chuckled Mr. Butz. "And let me just tell you that a quick trip to CVS in Penn Station is not the answer."
That Thursday, Shindigger continued our thespian streak at BAM's theater gala dinner, which featured a performance of Shakespeare's King Lear starring three-time Tony winner and Academy Award nominee Frank Langella.
In addition to Shindigger, BAM President Karen Brooks Hopkins' head table included Cynthia Nixon and Pat Schoenfeld. As we nibbled about our watercress and parsnip salad, we overheard a woman ask Ms. Nixon:
"You live in Brooklyn?"
"No! Christine lived in Brooklyn before I dragged her to Manhattan," the Sex and the City star replied, shaking her head at her partner, Christine Marinoni. "Some gossip magazine must have published that."
We emptied our glasses and took our last bites of the grass-fed beef. Soon, ushers began shepherding us toward the Harvey Theater.
"I saw Langella in Present Laughter; he was amazing!" enthused Ms Nixon. 
"Ma'am, can you please make your way to the exit?" yapped an attendant.
Ms. Nixon assured the impatient woman we were going. Shindigger asked if she and Ms. Marinoni were believers in Valentine's Day.
"We are!" she said with a warm grin. "It's a good thing." Her voice trailed off, however. She may have been a believer, but did she have a plan? Ms. Nixon seemed momentarily flummoxed as she looked at Ms. Marinoni.
"It's a surprise," Ms. Marinoni said with a wink. And with that, we were off to see Lear.