If you were ever wondering how to behave on the off chance that you're accused of rape one day, do not follow Vine celeb Curtis Lepore's lead.
Here's the back story: Mr. Lepore and Jessi Vazquez, known as Jessi Smiles, met through Vine, the six‐second video sharing service that's mainly popular with teens. They started dating, and weren't shy about broadcasting their relationship to their Vine and Twitter followers.
Then, they broke up last August in Los Angeles. Shortly after, Ms. Vazquez got a concussion and Mr. Lepore visited her. She claims that he raped her while she slept.
We don't know what actually happened between Mr. Lepore and Ms. Vazquez that night. Maybe the accusations are legit; maybe not. What we do know is that he took a plea deal on Feb. 21, pleading guilty to felony assault and effectively ridding himself of the rape charge. Here's what his accuser had to say:
And here's his version, after a two‐tweet buildup announcing he had some good news to share:
Ever since, he's been taking to Twitter to continue acting piggish about the whole thing. (And legions of young girls are supporting him, but that's another issue.) So, here are some examples of what not to say if you find yourself celebrating the fact that you've plead guilty to felony assault instead of rape.
America, do we need to have a talk with our boys and tell them that even if a girl lies to you, prefers her career over you, and dumps you, you still don't have the right to assault her?
A cliffhanger, too! Awesome. Go on, Curtis, please:
He also provides a great example of how not to deal with reporters who are asking you questions about your rape charges:
He proves that he'd rather mock his critics than consider what they're saying about date rape and acquaintance rape: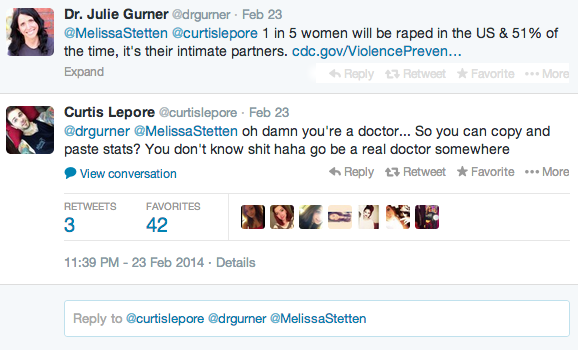 By the way, this guy is 25 30! years old, not 13.
He even brags about how well his career is going despite the criminal charges:
He also weirdly appears to compare Ms. Vazquez with his mom:
Here is the one instance in which Mr. Lepore kind of addresses the circumstances of what happened. He also asks his followers to stop "threatening" and "slut shaming," because they're the immature bullies in this situation:
Oh, he also tweeted, "FAV this if you would willingly have sex with me," but then deleted it, maybe because someone explained to him that just because some people want to have sex with you doesn't mean you're incapable of being accused of rape? There are more deleted tweets here.
Meanwhile, Ms. Vazquez clearly realizes that she doesn't have to say anything to make Mr. Lepore look unhinged; he's doing it for her.
Just to be clear: again, we have no idea what truly happened between Mr. Lepore and Ms. Vazquez and we never will. He could be totally innocent. He may not be a rapist — but thanks to his social media presence, we can confirm that he is an egocentric, misogynistic, self‐absorbed baby.
(CORRECTION: A previous version of this article stated that Mr. Lepore was 25 while he is actually 30.)