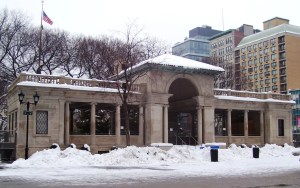 This morning, the New York State Court of Appeals ruled that a controversial restaurant will be allowed to open in Union Square Park, disappointing activists who had fought to negate a contract that the Parks Department had signed with a high-end seasonal restaurant.
The ruling, the result of an appeal filed by the city after a judge issued a temporary injunction against the restaurant in January, clears the way for the 200-seat, Chef Driven Market to open in the Park's Northern pavilion.
The ruling found that the Parks Department's 15-year-long revocable lease with the seasonal restaurant, "was lawful under our precedents." Opponents of the restaurant, who initiated the legal challenge to block it, argued that Union Square Park's relatively diminutive size was unsuited to hosting a restaurant and that the restaurant's prices would be prohibitively high for many New Yorkers, with prices upwards of $33 for entrees and $14 for appetizers and desserts (though the restaurant has agreed to offer some low-price breakfast items). The neighborhood's plethora of food and dining options were cited as yet another reason that such an establishment was unnecessary.
Earlier today Geoffrey Croft, one of the plaintiffs, told CapitalNY that he was disappointed in the decision that "would take away desperately needed play space from children and the community as well as impact the pavilion's free speech uses. We sincerely hope the mayor will make the right decision and return the historic pavilion to the children and the community instead of allowing a Bloomberg-era high end restaurant which is clearly not needed."
Thus far, Mayor de Blasio, who has said that he wants to take the Parks Department in a different direction, but has yet to name a new parks commissioner to succeed Veronica White, has not commented directly on the case. However, in allowing the city to move forward with the appeal in January, he tacitly gave his support, highlighting the complicated nature of public private parks partnerships that flourished under Bloomberg. While some believe that the city has gone too far in commercializing parks in order to pay for their upkeep—Bryant Park was essentially without open space during SuperBowl weekend—the expansion and revitalization of the parks department has been enabled through alliances, concessions and in the case of Brooklyn Bridge Park, condos.
New Yorkers for Parks chairman Ed Wallace told The Observer that while the advocacy group was wary of overcommercialization, it had supported the restaurant contract because "this restaurant in this pavilion made good sense for the park. We take it on a park by park and enterprise by enterprise basis. That you can sit and have a coffee in the park? That's a glorious amenity!" he said, adding that he viewed restaurants and cafes not as an imposition on open space, but as an enhancement of it.