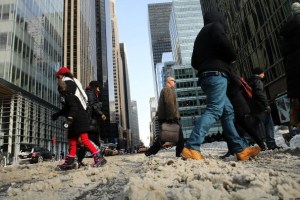 He really wants you to walk his way.
Jaywalking tickets are up nearly 800 percent compared to last year, thanks to Mayor Bill de Blasio's Vision Zero plan. The plan, which aims to reduce traffic deaths to "literally zero," was supposed to focus on motorists, not pedestrians.
Yet, a New York Times article reports that 215 jaywalking tickets have been issued to pedestrians and cyclists through Feb. 9, compared to just 27 during the same period last year.
At the same time, the number of tickets for moving violations has remained stagnant. During the same time period last year, 91,043 summons were issued. This year, there were 90,945 tickets doled out, according to The Times.
Mayor de Blasio launched his plan on Jan. 15, addressing the rapid increase of pedestrian deaths. According to police data, 176 pedestrians were killed in traffic in New York last year.
"This will be a top-to-bottom effort to take on dangerous streets and dangerous driving," the mayor said about the plan. "From tougher enforcement to more safely-designed streets and stronger laws, we'll confront this problem from every side—and it starts today."
However, Charles Komanoff, a transport economist, told The Times  jaywalking is part of New York City culture and that some "pedestrian impulses should not be tamed." You know what's not part of New York City culture? Killing pedestrians.