For a while, it seemed like single people got all the fun apps—do you know badly I always wanted to do that Tinder swipey thing?! Thankfully, last week I discovered HowAboutWe for Couples, the New York-based dating site geared towards people in relationships.
HowAboutWe began in 2010 as a singles' dating site aimed at ending "endless online profile browsing," cofounder Brian Schechter explained to Betabeat. He and fellow founder Aaron Schildkrout wanted to create an experience "where you post actual date ideas, and connect and meet in the real world, away from pokes [and] winks."
But Mr. Schechter said he was troubled that after people found love on HowAboutWe, they no longer had any use for the site. "We had all those people who found love on HowAboutWe, and [were] still wanting the HowAboutWe experience—they were still asking for suggestions for dates," Mr. Schechter said, "We set out to create a product for couples." 
Enter HowAboutWe for Couples, the subscription site that sets couples up on cool, unique dates. For $18 per month—plus, in some cases, a few additional dollars per date—couples can indulge in anything from body-painting sessions to partner yoga to sexy mixology classes. 
The site debuted last year, and is now celebrating its one-year anniversary. It also just celebrated launching in its fifth city, L.A. (Chicago, San Francisco, and Seattle are also part of the club.)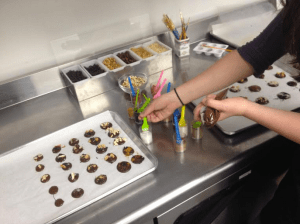 Of course, I couldn't resist the opportunity to try out HowAboutWe for Couples for myself. After setting up an account, my BF and I browsed our many and varied date options—actually, I browsed the many and varied date options, while my BF sat beside me and said, "Pick something that involves food."
There were plenty of five- and six-course tasting menus and brunch deals at awesome New York restaurants, but I wanted to go for something a little more interactive. In the end, we decided on a private chocolate making class at Tache Artisan Chocolate on the Lower East Side.
When we showed up at Tache for our date last Wednesday, we were delighted to discover they were expecting us, and treated us to homemade hot apple cider. We felt like fancy rich people! Next, the cafe's pastry chef escorted us downstairs for our two-hour private lesson, where we made pretty chocolates called mendiants (discs) and grignotines (clusters) and also poured a bunch of chocolate into snowman-shaped molds.
Besides our excitement at finding out we got to take it all home with us (but seriously—we're talking at least five pounds of chocolate), we also enjoyed learning something new together, and learning new things about each other—who knew my BF was exceptional at decorating chocolate discs with peanuts and edible glitter? It was a unique date—not something we'd ever think of doing on our own—and brought some exciting spice to a night that might otherwise have been spent ordering in mass amounts of sushi and binge-watching Sherlock.
"Couples have responded really well to experiences that involve learning something new, doing something out of the ordinary," Mr. Schechter told us a few days later. "[Things that] wage a battle against the endless periods of food and Netflix on Friday nights."
Truth.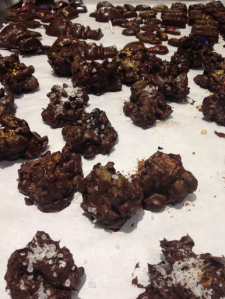 In the future, Mr. Schechter hopes to continue expanding HowAboutWe for Couples to other cities, and to continue making users' experience as wonderful and hassle-free as possible. Already, he's seen plenty of members meet their partners on HowAboutWe Dating, and then continue using HowAboutWe for Couples with their newfound partners, which is really delightful and heart-warming.
"Helping fall in love but also helping people stay in love—now our company is very much focused on that mission," Mr Schechter said.