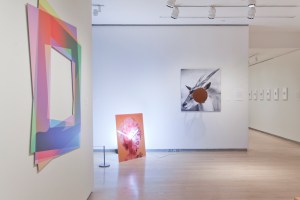 The curator of this exhibition, Carol Squiers, turned to work by 21 artists to investigate the ontological reality of a photograph. Does a photograph represent the world? Is it an investigation of light-sensitive chemistry? Does it deal with landscape or with time?
The title of the show poses a good question. Unfortunately, the works chosen to investigate this question, which date from the 1970s to the present, are, simply put, not very strong. What's worse, while many of them are cartoonishly bad, a few are magical and get it just right. The resulting exhibition is maddeningly close to being good, but it is hobbled by some serious and almost headache-inducing failures that can only be blamed on a lack of curatorial judgment.
A few of the artists here are excellent. A giant Sigmar Polke collage from 1977 and other great Polkes from the 1960s and '70s that deal with alternative and often chemically fanciful concoctions are wonderful and alone worth a visit. A few terrific Gerhard Richters in which personal-seeming photographs are overlaid with squeegeed paint make for beautiful and emotionally resonant abstractions. Eileen Quinlan's elegant work and Liz Deschenes' Untitled (zoetrope), a silvery, subtle, even regal series of black exposures, are both smart takes on the theme. James Welling's photographs also look great here: multicolor operatic musings on modernist architecture in artificial sunset colors made possible through color processing manipulations. Alison Rossiter's modest work about expired media and latent images is simple and lovely.
But I was neutral on Floris Neusüss' process-based but heavy-handed and gimmicky works (many of which focus on long, cameraless silhouettes of figures), Marlo Pascual's large photograph-based installations and Marco Breuer's large, abstract prints (which look like they are trying hard to be paintings). There's nothing new to discover in this particular display of Lucas Samaras' Polaroids, and David Benjamin Sherry's ROYGBIV-printed scenes of famous 19th-century photographic landscapes look only halfway to being resolved works of art and more than half like MFA projects. Christopher Williams' works archiving obsolete camera types look interesting in themselves but uninterested in being in dialog with the premise of the show.
The show is rounded out by a large quantity of frankly bad art. Both Matthew Brandt's photos, with surfaces flaking from a lake-water soak, and Jon Rafman's Internet-explosion images are terribly gimmicky, as are Letha Wilson's monochromatic sculptural landscapes. Mariah Robertson's 154, a large, sloppy color photogram several dozen feet long, is baggy and ugly, with no discernible intelligence to its unwieldy display. Travess Smalley's scanner-based work looked simplistic and underdeveloped, while Kate Steciw references Photoshop in her pretentiously long titles, with no visual interest to the images themselves; both artists' works seemed made for an art fair. Owen Kydd's durational video operates under the illusion that boring subjects and bad still photography might be made better as video art, a premise which an examination of his work manifestly disproves. Artie Vierkant's post-Albers color-study-style-shaped images are one-dimensional and flat.
I like thematic group shows, but to see such a fundamental lack of discernment between good art and bad is jarring. My impression at ICP was that Ms. Squiers, a by-most-accounts-usually-very-good curator, was tone-deaf in this case to the quality of the work on display—a problem for a person in that position.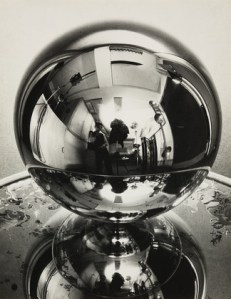 For a truly revelatory exhibition on a similar, although quite different, theme, the newly opened exhibition "A World of Its Own: Photographic Practices in the Studio" at the Museum of Modern Art is a must-see for anyone interested in the current and past state of the medium. The show's inward-looking take on photography (it makes the distinction between "made in the studio" and "made in the street") places contemporary trends in photographic abstraction in relation to historical developments in the medium. The show makes intelligent visual connections between, for example, contemporary Israeli-born, American photographer Elad Lassry and 1930s Czech photographer Jaroslava Hatláková. German photographer Karl Blossfeldt's stunning still lifes are on view, as are the Nigerian photographer J. D. 'Okhai Ojeikere's takes on hair, a Robert Rauschenberg and Susan Weil cyanotype from the 1950s and Auguste Belloc's sinuous19th-century nudes. Effortlessly mixing early and contemporary photography, as well as film and video around the theme of studio photography, new MoMA photography curator Quentin Bajac's first New York curatorial outing puts to shame the ICP's rather poor take on its own question.
In fact, Mr. Bajac's show does a much better job investigating the ontological premise of photography purely by virtue of demonstrating outstanding and sustained visual, historical and curatorial intelligence. It's a commodity on scant display at the ICP. What is a photograph? It's a great question. Hopefully the answer is nothing as cynical as the collection of occasionally great but mostly very bad work thrown together in the basement gallery of the ICP. 
(ICP: through May 4, 2014; MoMA: through Oct. 5, 2014)