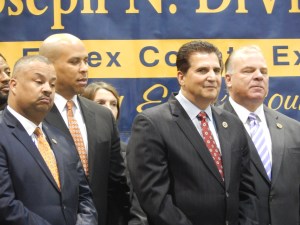 A proud political family with deep roots in Newark, the Paynes pushed their way to the top of city politics in the 1980s when the late Donald Payne retired Peter Rodino and the elder Payne became the first African-American congressman in the state.
He was also the only African-American congressman in the state's history until his son succeeded him.
The name Payne means something in the city, and where U.S. Rep. Donald Payne, Jr. (D-10) goes in the mayor's race has significance.
The battle lines are hardening around the peace-seeking Payne, who late last year told PolitickerNJ that he expects to remain neutral.
With the announcement last week of Anibal Ramos' bow-out, the driving political organization in the county that helped Payne shut down his 2012 Democratic Primary opposition appears to be building toward support for former state Assistant Attorney General Shavar Jeffries.
The announcement this morning that Jersey City Mayor Steve Fulop has thrown in with Jeffries' chief rival South Ward Councilman Ras Baraka deepens a divide between two Payne allies: Ramos mentor Essex County Executive Joe DiVincenzo and Fulop.
Payne's political alliance with DiVInceno runs deeper. It's been a symbiotic relationship for years, and the two Democrats are scheduled to appear on the same ticket in the June Democratic Primary.
DiVincenzo's longstanding answer to critiques about ramifications of his support for Republican Gov. Chris Christie contains two words: Booker (as in incumbent U.S. Senator Cory Booker, slated to occupy the same ticket) and Payne.
But Payne also has some connective tissue to the upstart Jersey City mayor.
The congressman endorsed Fulop early in last year's Jersey City mayor's race. Fulop used the Payne name to help him in wards A and F.
Even if Payne wasn't out there pounding on doors with a vengeance for Fulop, there's a relationship there.
Fulop's decision today to throw in with Baraka demonstrates the willingness of a key power player – hitherto allied – albeit loosely – with DiVincenzo – to support the anti-Essex establishment Baraka.
The perception in Newark is that Baraka is stronger in his base than Jeffries, who will require organization help provided for him by the county.
In an intensifying political atmosphere, Fulop's move puts pressure on Payne to pick sides between two mayoral candidates, who both share roots with the congressman in the city's South Ward.