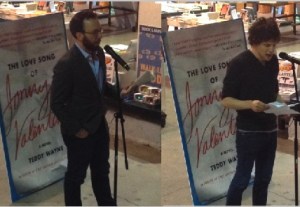 At the Powerhouse Arena in Brooklyn Thursday night, during a party for the paperback release of Teddy Wayne's The Love Song of Jonny Valentine, which featured a gaggle of comic readers—Jesse Eisenberg, the Moth's Dan Kennedy, Simon Rich—in addition to Mr. Wayne, the conversation turned briefly to the PEN party at the bookstore the previous evening. Comedian and newly minted author B.J. Novak had made an appearance then, puffing out the Brooklyn literati's plumage enough that this evening's celebrity cameo, the McSweeney's author and recently announced Lex Luthor, Mr. Eisenberg, was treated as par for the course.
"If B.J. Novak is like the Beyoncé of the literary world right now," mused Slaughterhouse 90210's Maris Kreizman, who recently signed with Flatiron Books for a print version of her popular blog, "is Jesse Eisenberg Gaga? Or Katy Perry?"
The topic of discussion was apt given Mr. Wayne's subject matter. The Love Song of Jonny Valentine is a prescient tome about a celebrity pop star that may or may not have been based on Justin Bieber. (The book's plot roughly follows that of the Bieber concert documentary, Never Say Never.) The other readers of the evening, Mr. Kennedy, the waifish Mr. Rich and Mr. Wayne himself, ironically seemed more at ease in front of a crowd than the genuine celebrity that is Mr. Eisenberg, who arrived in tight pants and seemed to be convulsively grimacing. Fittingly, the nervous actor read a story about a man who smiles in an attempt to trick his brain into being happy.
Asked for his thoughts about the recent arrest of Mr. Bieber, Mr. Wayne deadpanned to the Transom, "What's the guy's name? I've never heard of him. I'm not aware of this human being you describe. But based on your description, I would say that it sounds like something any 19-year-old boy would go through, given those circumstances and variables thrown his way."
Was it possible then that Mr. Wayne had somehow manifested a pop star into reality? After all, in Love Song, Mr. Wayne depicts Jonny's dad as complicit in some of the more illicit activities of his son, and Mr. Bieber's father has only recently come into the headlines for being more of a posse member than a father.
"Every time this book comes out in some form, last year in hardcover and this year in paperback, something seems to happen with him," Mr. Wayne said of Mr. Bieber. "I'm not suggesting we paid him, but I'm not not suggesting it either."