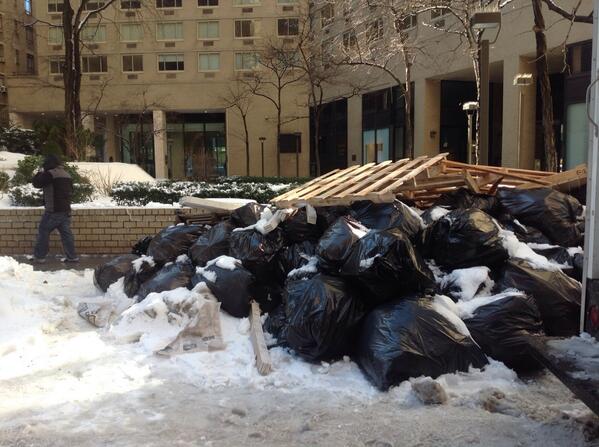 Wake up and smell the garbage!
New Yorkers are raising a stink over the piles of uncollected trash lining city streets.
Sanitation workers, who are also responsible for snow removal, have been a bit too busy unearthing the city to pick up the city's garbage.
ABC Eyewitness News reports that 12,000 tons of trash and recycling pile up with each day of snow work. Last week, three days of collection were lost to the snow effort.  That's a whiff you don't want to catch.
Last week, Mayor Bill de Blasio informed New Yorkers that garbage pickup would be delayed until Tuesday to focus on snow removal.  Residents, however, are tired of waiting in the stench and have taken their rage to social media.
BREAKING: New MSG, Sports Stadium Complex to Be Constructed from Uncollected #NYC Trash

— John Larsen (@midnighter99) February 18, 2014
Trash encased in snow? Start spreadin' the news… #nyc pic.twitter.com/H2Qp672nV8

— Will Dizard (@willdizard) February 14, 2014
#NYC Alternate side of the street parking suspended until Saturday. What will be higher the snow or the trash? #WhatAreTheyThinking?

— Liz Cho (@LizCho7) February 17, 2014
The trash was supp to be picked up today. How long has it been now ?… #ridgewood #queens #nyc #DSNY #winter @ABC7NY pic.twitter.com/RUr2nyrV5z

— Justyna K (@justyniak) February 11, 2014
I got the silver medal for leaping over 4 ft deep slush and trash puddles. #NYC

— Robin Lord Taylor (@robinlordtaylor) February 15, 2014
Friday in NYC, trash day on the sidewalks. #snowpic.twitter.com/dboqm5tDN3

— day trader (@daytrader2323) February 14, 2014
If this season-long polar vortex doesn't end soon, the garbage piles will be as tall as the buildings.