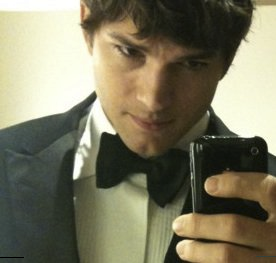 As part of his fervent, ongoing mission to prove he's the tech-iest tech person in all the land, Ashton Kutcher will be designing a line of special edition phones for Lenovo.
In case you haven't been keeping up with Mr. Kutcher's burgeoning career, the Butterfly Effect actor technological innovator joined Lenovo as a "product engineer" in late 2013, with the goal of making the company's products "as consumer friendly as possible." Part of the role evidently has involved designing this new line of phones, which Recode reports will be released later this year. 
Despite having the word "engineer" in his title, Mr. Kutcher won't actually be creating the new phones, per se.
"[Lenovo's chief marketing officer] said while Kutcher isn't actually working on any of the design circuitry, the user experience of the phones will very much be his," the Recode article says. We can only imagine what that really amounts to: probably some hardworking assistant nervously asking Mr. Kutcher whether he prefers round buttons or square buttons, and whether he thinks blue or green would be a more suitable default background color. 

But that's not so different from other celebrity-"created" products — do we really think Nicki Minaj spent long hours in a lab coat squirting fragrance samples out of eye droppers to craft the perfect scent for Minajesty? Really, marketers just want to attach a popular celeb's name to a product, regardless of how much real involvement the celeb had in the product's design.  
But if that's the case, do people actually covet Mr. Kutcher's brand enough for this marketing strategy to be successful? It's been 14 years since Dude, Where's My Car? came out, and eight years since the end of That 70's Show (we guess he was in Jobs, but meh). Lady Gaga's $100 Beats headphones were enough of a stretch, and she was actually relevant when they came out. We doubt anyone's going to rush to buy some random non iPhone just because the guy who played Steve Jobs gave it his blessing.