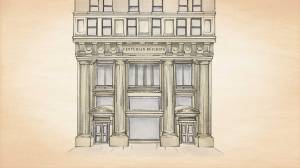 Time was, if you weren't in need of scented body oil or beaded, polyester lingerie, cut-rate hair extensions or a three-year-old Blackberry, you might well have steered clear of the retail strip on Broadway between 26th and 31st Streets. Called "Whodi"—for "Wholesale District"—by those in the know, the area had spent years in scruffy obscurity since its heyday in the late 19th and early 20th centuries, when the Ace Hotel opened in the old Breslin building in May 2009.
New York dubbed the Ace "a hotel for successful rock stars, and their emulators," and its success invited the arrival of the NoMad, which the Times called "the Ace for grownups," a hotel whose "name was coined in part to give some shine to the newly hyped triangle north of Madison Square Park." Seeking to cash in, too, on that hype is Mocal Enterprises, the owner for 35 years of the Centurian Building at 1182 Broadway, which has lately been converted to luxury loft apartments. Leasing on the first 20 of the 39 total units opened this month through Douglas Elliman, with occupancy expected in March.
On a recent tour, The Observer took a peek into a number of model units, as well as a few in which painting and other finishing touches were still under way. There, even in the smallest of apartment, we found high ceilings, fluid, airy spaces and abundant light. There were a paneled Sub-Zero fridge and a Bosch cooktop and washer and dryer—all standard throughout the building, along with impressive closet space. 
"If you ask people whether they'd rather have a washer/dryer or extra closet space, almost everyone says washer/dryer," said Clifford Finn, executive vice president of development marketing at Douglas Elliman, who led the tour. "The truth is, they want both. If it's a gun-to-the-head scenario, they'll take the washer/dryer. But they want both."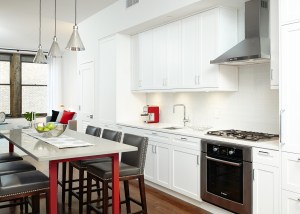 Constructed between 1908 and 1910, the Centurian served as headquarters for the Century Holding Company and was overhauled for its present purpose by interior architects with BuiltIN Studios. Accordingly, each unit is different, but the apartments we saw fell roughly into two categories: those in which living spaces are comprised of large, welcoming, convex parlors, and those in which they are something like long, wide corridors which, were it not for the rows of enormous windows in practically every unit, might recall bowling alleys. 
Original copper window frames have been preserved and restored, and lend to the Centurian something of the throwback chic that has sold so well at the Ace and the NoMad. (The original postal chute, though inactive, gives a similar effect to the elevator banks.) Both hotels are visible from the apartment building, though views vary considerably from unit to unit—even window to window. From apartments on upper floors, at the front of the building, one can look out on the NoMad's ornate facade and at the oxidized lettering of the Baudouine Building. Elsewhere, however, one gazes at flat brick walls, cascading black fire escapes and ranks of wooden rooftop water tanks.
"I actually happen to love these kinds of views," Mr. Finn said of such vistas, which could easily provide backdrops against which Batman might chase villains. "They're very Flatiron."
Rents will start at just under $6,000 a month, for one-bedrooms, Mr. Finn said, and soar up to $15,000 for the largest two-bedroom units. In light of the Centurian's neighborhood and price point, Mr. Finn expects youngish, but established couples and a single folks who might use a second bedroom as a den or home office. "But you can't ignore the trend of families staying longer in the city," he said. "It used to be that if you had kids and you lived in the city you were on the Upper East Side or the Upper West Side and that was that. But that's no longer the case."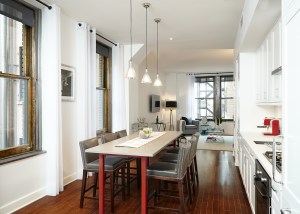 Either way, it doesn't sound as though the Centurian's incoming residents are going to do much for the body oil salesmen of Whodi.