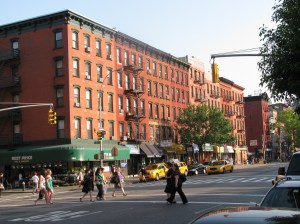 Today Mayor Bill de Blasio and Gov. Andrew Cuomo announced an affordable housing initiative for low-income New Yorkers living with HIV/AIDS that will cap the rent for those receiving housing subsidies at 30 percent of their income. Long a goal of advocates, who say that the income cap is necessary to save many of those living with the illness from penury, a similar measure was introduced as a bill four years ago, but was opposed by Mayor Bloomberg and ultimately vetoed by then-Gov. David Paterson, who cited a lack of funding.
But city and state leadership has shifted, and the change has brought with it support for the measure, which advocates say essentially extends a wide-spread protection that is already enjoyed by most subsidized and public-housing tenants. An estimated 10,000 low-income New Yorkers with HIV/AIDS are expected to benefit from the income cap, some of whom were paying more than 70 percent of their disability income toward the rent, according to Gov. Cuomo's office.
"This action will ensure that thousands of New Yorkers living with HIV/AIDS will no longer be forced to choose between paying their rent or paying for food and other essential costs of living," Mr. Cuomo said in a statement. 
The Mayor also lauded the initiative, writing in a release that "we are committed to lifting up the most vulnerable among us. This is the mark of a compassionate city." But the support, will extend far beyond that of a moral variety—the city will should two-thirds of the initiative's cost, which the state estimates to be $25 million. (In 2010, Mr. Bloomberg estimated that instituting the cap would involve a 10 percent increase on top of the $150 million that the city was already paying for the program—some $15 million that he said New York could not afford.)
Janet Weinberg, interim CEO of Gay Man's Health Crisis, called the 30 percent rent cap, "long overdue." "Housing is health care. The only way we can expect people living with HIV/AIDS to stay healthy is by ensuring that their housing is secure and safe. This has become especially challenging as federal funding for HIV/AIDS has eroded in recent years," Ms. Weinberg wrote in a statement.
Advocates, however, have argued that such a measure would more than pay for itself, pointing to the costs of emergency interventions avoided by preserving housing for a vulnerable population. Studies have shown that people with stable housing are more likely to take their medication and less likely to acquire or transmit HIV. Additionally, the state says that many people who are currently living in emergency shelters and supportive housing, housing situations that are costly for the state, could live independently, but are unable to do so because they cannot afford rents unless they are capped at 30 percent of income, which is the general measure whereby a rent is considered affordable or not.
"This affordable housing initiative pays for itself by keeping people in their apartments and out of costly shelters," wrote Dan Tietz, executive director of the AIDS Community Research Initiative of America, in a statement. "It improves HIV health outcomes and is associated with better access and adherence to medication."
The state and the city share responsibility and funds for HASA, the HIV/AIDS housing assistance program, whose policy is set by the state and administered by the city.