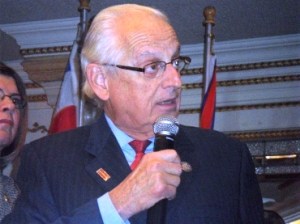 At a Chamber of Commerce dinner late last month, in response to some jovial banter from incumbent Paterson Mayor Jeffrey Jones, U.S. Rep. Bill Pascrell (D-9) went to the podium and reminded people that he ordinarily doesn't get involved in mayoral politics but plans to make an exception this year.
It was hardly the playful rejoinder Jones or others in the mayor's inner circle might have wanted, but they could hardly say it came as a surprise.
The ill-will between Pascrell and Jones goes at least as far back as the aftermath of the 2010 mayor's race, when the congressman met a mayor resistant to his designs for the refurbishment of the area around Great Falls National Park.
It reached a climax when Jones backed U.S. Rep. Steve Rothman from Bergen County over Paterson's own Pascrell in the 2012 Democratic Primary.
Many insiders convinced of the raw numerical advantages of the Bergen portion of the district over Passaic believed that Jones had simply picked the winning candidate, but when Passaic produced a huge plurality on Election Day and catapulted Pascrell to victory, the mayor found himself on an island of political losers stuck with the retired Rothman and faced with the consequences of reanimated political animal Pascrell.
Going forward, Pascrell would deny it, but people around him confessed he wanted Jones gone; not out of a sense of simple political payback so much as a desire to have a mayor in City Hall with whom he could have a working relationship.
Now in an Election Year, 2012 boomerangs as Jones seeks re-election to a second term in a field of challengers that includes former Mayor Jose "Joey" Torres, Councilman Rigo Rodriguez, former Councilman Aslon Goow and Council President Andrew Sayegh.
While the congressman and his ally, Passaic County Democratic Committee Chairman John Currie, tried aggressively but unsuccessfully to get assemblyman Benjie Wimberly (D-35) in the mayoral race, a source close to the congressman told PolitickerNJ that Pascrell still intends to get involved in the contest.
And while he has not yet committed to a candidate, when he does, "it will be in a serious way," the source said.
Of those candidates running for mayor against his nemesis Jones, sources say Pascrell is most likely to back the council president. Lacking Wimberly, he has a staunch ally in Sayegh, who once worked for Pascrell in the congressman's district office and went door-to-door for Pascrell in his home 6th Ward.
Sayegh has his political challenges, starting with the city's ethnic makeup. A Lebanese/Syrian who built his base in Pascrell's old neighborhood, he came in third when he ran for mayor in 2010, behind the African-American Jones and Puerto Rican Torres.
But that outcome occurred when Sayegh lacked establishment support.
When Pascrell commits, he will presumably do so with Currie at his side and Wimberly and Assemblywoman Shavonda Sumter (D-35) either neutralized or also in support of Pascrell's candidate.
For the moment, "Andre Sayegh is getting a serious look," the source told PolitickerNJ. "The trouble is there is no clear front-running candidate."