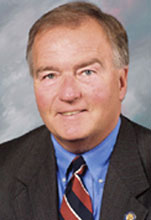 TRENTON – In a pool of at least 16 Republican hopefuls vying for an open congressional seat it's sometime challenging to distinguish oneself among the crowd.
But Assemblyman David Wolfe (R-10) seems to have found a way.
"I'm kind of labeling myself as a resident candidate," said Wolfe, declining to elaborate further but making an apparent reference to two of the leading contenders for the CD 3 seat slated to be vacated by U.S. Rep. Jon Runyan (R-3).
Wolfe, an early name to be dropped into the race once Runyan announced he doesn't intended to seek another term in office, told PolitickerNJ his screening process is going "pretty good," explaining he's received some local and national support and that he hopes to clinch his party's backing to make a congressional run.
Wolfe made the statements the same day former U.S. Senate contender Steve Lonegan official announced his CD 3 bid and as former Randolph Township Mayor Tom MacArthur continues to be screened by leadership in Ocean and Burlington counties.
Both Lonegan and MacArthur recently purchased homes in CD 3.
When asked for his thoughts on Lonegan's congressional campaign – which appears to be rolling out ahead of any official party backing – Wolfe said he'd "rather not comment," saying, "We're all in the same boat."