Columbia University is an Ivy League institution. To make sure no one forgets that, the college's newspaper, The Columbia Daily Spectator, held its 27th Annual Awards Dinner at the super-swanky New York Athletic Club on Friday, replete with all the Ivy essentials: a string quartet, celebrities, oak-paneled walls and hearty chuckling over free merlot.
The Awards Dinner is an opportunity for Speccies, as the newspaper's staff calls themselves, to honor past and present members who have somehow been more successful than the average Columbia student. It's also an opportunity for students to engage in their wildest bourgeois fantasies that doesn't involve sexual intercourse in the school library.
"I'm really impressed with what they've been able to do with the dinner this year," Peter Bailinson, a Columbia sophomore who helped organize last year's Awards Dinner, said. "They changed the venue, the attendance is larger. It seems like it's on a much bigger scale." Apparently the Columbia Club, which has two restaurants and an event room large enough to host weddings, was no longer good enough.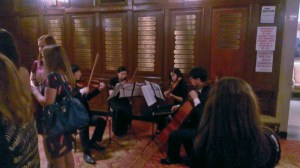 The night began with a cocktail hour in the Athletic Club's Billiards Room, which featured two open bars and appropriately magnificent windows overlooking Central Park South. Well dressed co-eds mingled with alumni, parents and members of the paper's Board of Trustees, and encouraged guests to "just take a look" at the silent auction prizes, which included "Lunch with Margaret Sullivan" and a "Museum Date Package," among other desirables. 
The funds generated from the auction, along with the $250 entrance fee, are for more than Speccie keggers; they're an essential part of keeping the 138-year-old paper, which has been financially independent from the University since 1962, afloat.
"As a non-profit and a university paper, we rely on in large part on donations from alumni and this is definitely one of the events that helps garner some of that," Steven Lau, The Spectator's outgoing Multimedia Editor, told the Observer.
After about an hour, guests shuffled into the dining room. The Athletic Club had given them the choice of "meat, vegetarian or kosher" meals, an ironic twist of fate for an organization once accused of denying Jews and blacks membership. 
Between bites of farm fresh kale, attendees listened to a myriad of speeches from important people, including Wendy Brandes, Chair of the Spectator's Board of Trustees, as well as outgoing editor-in-chief and 80s-hair-metal-star-lookalike Sammy Roth. There were also several cheeky Columbia-insider jokes, which flew completely over the Observer's head.
The Quintana Roo Dunne Award for Visual Achievement was presented to online editor Isaac White, and The Brian K. Malmon Memorial Award, which honors a peppy student who pretends not be miserable at 2:00am when daily production is only halfway done, was given to reporter Emma Goss.
Then the big names, television journalist Katie Couric and former television executive David Westin, took the stage for a keynote conversation (their names were literally the largest printed in the program). Ms. Couric said she was excited to be there, Mr. Westin said he was excited to share the stage with Ms. Couric, and the crowd, whose collective BAC was steadily growing higher, was just plain excited.
Ms. Couric, who studied at the University of Virginia, spoke about her early days as an intern at a D.C. radio station and her experiences as a woman in journalism, but the most interesting moment came when Mr. Westin asked Ms. Couric about her infamous 2008 interview with Sarah Palin.
"There's a tendency for interviewers to fill dead air," Ms. Couric said. "And I remember talking to a number of people prior to that interview, Madeleine Albright, Richard Haass, just to really talk about what subject areas should we explore. But they all said 'let her talk. Let her explain who she is.' And so that's what I did."
We all know how that turned out.
"As a human being, I felt bad for her," Ms. Couric continued. "I thought 'this woman is clearly not ready for prime time' and you know, you feel compassion because you don't want to see someone fall apart in front of you. On the other hand, I felt a responsibility to the American public to show who this person was."
The highlight of the night came afterwards, when Richard Wald, a former television executive and the Spectator Board's Chair for 40 years, received an award for Lifetime Achievement in Journalism. Max Frankel, a retired New York Times reporter and 2013's award recipient, introduced Mr. Wald, and the event quickly turned into the genteel Columbia equivalent of a Comedy Central Roast.
"By the time I got out of the army, lo and behold, Richard was somehow a star reporter for the Herald Tribune," Mr. Frankel told the crowd. "I don't know what he did there, but the faster the Tribune sank into bankruptcy, the higher he rose. You may know the history. It was the beginning of the end of print journalism, and Richard presided over it at the Tribune."
When the quick-witted Mr. Wald took the stage, he had a comeback prepared: "I can see by this award that, true to its roots, every expense has been spared."
He must have been referring to Mr. Frankel, because both the food and the laughs at the Awards Dinner were anything but cheap.