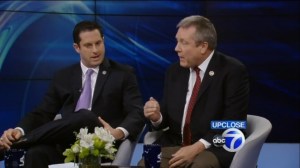 Democratic Councilman Danny Dromm and Republican State Senator Greg Ball will not be having a kumbya moment any time soon, if a recent television appearance is any indication.
Speaking with Up Close host Diane Williams durng a joint appearance, the two lawmakers bitterly clashed over Mr. Dromm's bill to give undocumented immigrants municipal ID cards.
Mr. Ball, a Hudson Valley senator and chair of his chamber's homeland security committee, charged the bill would aid terrorists by giving them new ways to evade law enforcement, while Mr. Dromm, a Queens councilman, insisted it was important to help immigrants with a variety of everyday tasks, including opening bank accounts and leasing apartments.
"I believe what the senator is doing is engaging in fear-mongering, to be honest with you," said Mr. Dromm. "To paint immigrants as terrorists is the wrong thing to do."
"Instead of attacking me, how are you going to make it secure?" Mr. Ball asked as the two pols tried to talk over each other. 
"What I would like to talk about, senator, is the lives of our immigrants … " Mr. Dromm tried.
"How about the lives of those 3,000 people who died on 9/11?" Mr. Ball shot back. 
"Senator, may I finish my statement please?" Mr. Dromm tersely replied.
"And then answer the question, please," said Mr. Ball as Mr. Dromm maintained that Ms. Williams was the interviewer. (At one point, Mr. Ball even mocked the way Mr. Dromm gesticulated with his right hand as he spoke.)
Mr. Ball, who previously blasted Mayor Bill de Blasio's support for the same municipal ID card issue, later spoke in more depth about his belief that Mr. Dromm's bill could potentially lead to a major terrorist attack in the Empire State.
"They did it in Maryland, they did it in Florida, they did it in Virginia and it was Mohamed Atta who was the mastermind of 9/11 had a Florida driver's license, he didn't have a New York State driver's license," Mr. Ball said. "They got those driver's licenses by prepping false documentation similar to what the City of New York is poised to put their stamp of approval on."
As Mr. Dromm said "there was no need to worry" about terrorist threats with his bill, Mr. Ball sat back and chuckled, "You're in la la land."
"When New York City got hit on 9/11, it was men and women that came from my area in trucks, in fire trucks, law enforcement personnel, emergency responders and a lot of volunteers that left my district to come down to this city," Mr. Ball continued.
"Senator, is there anyone in New York State you like? You voted against marriage equality … You're voting against the immigrants," Mr. Dromm said. 
At the end of the segment, Mr. Ball reached over to shake Mr. Dromm's hand. 
"You're a bum," the councilman could be heard saying off camera. Mr. Ball laughed loudly.