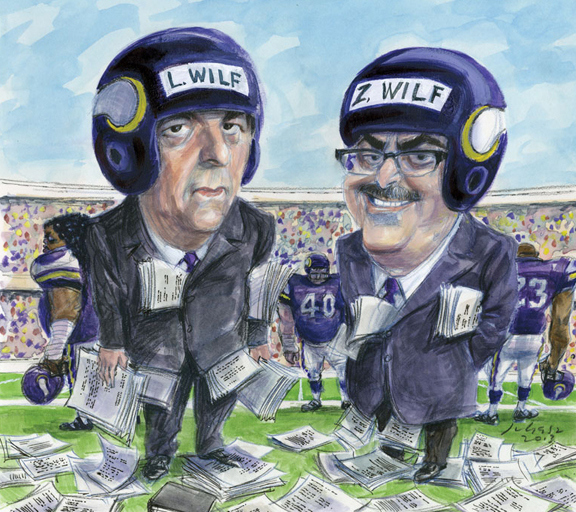 Many men would crack under the pressure. But Zygmunt ("Zygi") Wilf, owner of Garden Homes and the Minnesota Vikings, can apparently handle going to bed each night with a $110-million New Jersey court bond hanging over his head. Not that we know for sure. The Wilf family, despite owning one of the biggest homebuilders in the Northeast and the ultimate toy of the superrich, an NFL franchise, keeps its affairs private to a remarkable degree.
When the Observer reported this story last October, the Wilfs were fighting what seemed like an unsustainable three-front war for the family's fortune, reputation, and future. First, a New Jersey court had just ruled the Wilfs owed partners in a Montville apartment complex more than $84 million. Second, the Minnesota Sports Facility Authority (MSFA) was investigating how that ruling affected the Vikings' $975 million stadium. (From a PR perspective, at least, this looked like a no-win situation: if the court-imposed damages sufficiently hurt the family, it could imperil the project. If the Wilfs could shrug off $100 million or so (including interest, attorney fees, and an appeal bond), why were Minnesota taxpayers providing a $500 million subsidy for the stadium?) Third, the family was fighting to keep its finances private. The court's order sealing the record on the family's net worth disclosure was due to expire.
The family immediately took another couple of hits. On October 21, two days before the Observer's story ran, the winless New York Giants routed the Vikings 23-7 in front of a Monday Night Football audience. By November 3, the team was an abysmal 1-7. Two days later, a Special Master appointed by the New Jersey court heaped on more bad news, recommending the Wilfs pay an additional $15.1 million in attorney fees. On December 20, New Jersey Superior Court Judge Deanne M. Wilson entered final judgment in the case, ordering that the defendants pay more than $103 million.
The only positive note was that Judge Wilson retired after entering the judgment.
Remarkably, the Wilfs have held it together since December. To get the taxpayer-subsidized Vikings stadium, they are successfully running out the clock. As the Observer reported in October, the MSFA did little more than rubber-stamp its previous approval of the deal. Demolition of the unloved Metrodome began in February, and a piece of the roof even came down before it was supposed to. The sky, literally, can't fall fast enough.
On January 8, the Wilfs filed their appeal with the New Jersey Appellate Division. They apparently did not have a problem posting a $110 million Supersedeas Bond, a requirement to stay the judgment on appeal. Having surmounted that hurdle, they will find the appellate process more comfortable than the trial. Zygi, Mark, and Leonard Wilf will no longer have to sit in a courtroom and, as the Observer reported, listen to a judge excoriate them "in uncommonly harsh language, finding they acted with 'bad faith and evil motive'" and calling their conduct "'grossly willful. And it was done repeatedly.'" (Unsurprisingly, that August 2013 session was the last time the Wilfs attended court in the case.)
Their chief counsel is Peter Harvey. Mr. Harvey was the first deputy to Attorney General David Samson before succeeding Mr. Samson as Attorney General himself. Mr. Samson is now the embattled Chairman of the Port Authority at the center of the Bridgegate scandals. The appellants' Case Management Statement, though just 15 pages, gives the impression that it must be extraordinarily difficult for a judge to avoid committing reversible error in a case this sprawling. The Wilfs are appealing from 13 different orders, claiming 19 separate errors of law. Conflicts of interest by Judge Wilson, numerous statutes of limitation, failure of the court to issue a written opinion: if the court did anything wrong in more than 3 years of rulings and 207 days of trial in a 21-year-old case, the $103 million judgment is in jeopardy. (Mr. Harvey's opening brief is due February 24.)