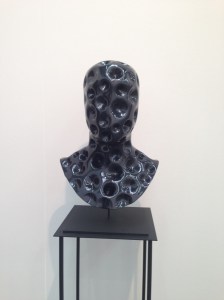 The first thing that caught my eye at the Armory Show was the booth of Vienna's Galerie nächst St. Stephan Rosemarie Schwarzwälder, half of which was taken up by a mini-photographer's studio with complicated-looking equipment that turned out to be a 3-D scanner. This was for a project by Karin Sander, wherein a visitor's image would be captured by a 3-D White Light Scanner and then built in plaster with a 3-D printer. This produced small figurines in a 1:5 scale, several examples of which were in view in the other half of the booth. The scan was free, the figurine would cost you. According to a release from the gallery, "The artist has conceptually resigned from her privilege of subjective creativity, passed it over to the disinterested eye of the scanner and hence granted a profound space to the shape of the subject itself: the shape and expression of the person."
"I wonder if they can do some fabrication," said Zach Feuer, whose booth just down the aisle was the site of another 3-D printed sculpture, a bust by Jon Rafman. The artist manipulates the sculpture's design first on a computer, which is then constructed and covered in car paint. (It was on reserve for $15,000.)
Though I could only find two examples of it, I'm going to go ahead and call 3-D printed sculpture The Trend of Armory Week 2014, or One of the Trends of Armory Week 2014, or perhaps just An Arbitrary Coincidence That I am Reading Too Much Into at Armory Week 2014.
Himself aware of the highly formulaic nature of art fair articles (see, for example, uh, the article up to this point), when asked how he chose the work to show in his booth, Mr. Feuer said, "Seriously, this question again? I don't want to read about that question again."
Well, then, how do you make it through an art fair that you've had to go to several years in a row?
"Heroin and cash," Mr. Feuer said and then laughed. "What else can I tell you? 'We've focused on people who have upcoming projects.' I'm bored listening to these answers."