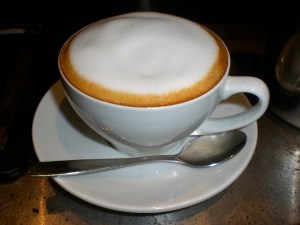 In the popular imagination, the mechanisms of gentrification generally follow a rough pattern. We tend to assume that fair-trade coffee shops, bakers of gluten-free pastries—WiFi networks named for David Foster Wallace characters—arrive in neighborhoods only after migrations of wealth and youth have produced a kind of critical mass. It can be difficult, after all, for a twee, hipster-friendly establishment to maintain itself absent a healthy population of twee-friendly hipsters. But two men have grown frustrated with this pattern's tendency to deprive those hired to carry out the developments that herald demographic changes of high-end lattes.
"We were a whole group of people who work around here and there was nowhere to get a cup of coffee," Yidy Brier recently told DNAinfo. "So we decided to open our own place."
Mr. Brier, who works for the Brooklyn-based development group Pacific Management, is poised this week to open the Kava Shteeble coffee house at 94 Ralph Avenue in eastern Bed Stuy with his partner Shragie Schwartz, also of Pacific Management. A glass facade has been installed in the storefront and the shop's interior decorated with wood salvaged from nearby construction sites, of which there are many. An overturned staircase has been re-purposed as a counter. Exposed brick and a restored tin ceiling reflect design sensibilities on display in other parts of the borough, where finding a $4 cup of coffee has long been as easy as 1-2-3. Beans will come from Crop to Cup, in Gowanus, which specializes in "traceable greens for specialty roasters," and whose owner Mr. Brier has befriended.
Prior to that relationship, he told the Jewish Week, his taste for coffee was not particularly refined. But lucky for the construction workers currently preparing eastern Bed-Stuy to be the next… well… take your pick, he has seen the light. "There is a huge difference between high-quality, fresh-brewed coffee and just the normal stuff you find all over the place," he said. Amen.
And if Kava Shteeble, whose name means "little coffee house" in Yiddish, look suspiciously like it might intend ultimately to attract a clientele whose professions require neither hammers nor hard hats—if Mr. Brier's own personal love of quality fresh-brewed coffee is not his primary motivation for opening the shop, can we really blame him? If there's anything a man in Brooklyn real estate ought to understand by now, after all, it's the value of getting in on the ground floor.
"We want you to come here, hang out, do some work on your computer," he said. "We want everybody to feel welcome."
Now we're talking. So come one, come all to Kava Shteeble. And bring that novel about construction site intrigue that you've been working on.