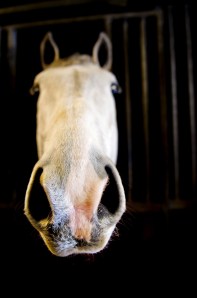 Perhaps inspired by the fake column posted by Gawker yesterday and written from the perspective of a rather scatter-brained dog, the Daily News took it upon itself to publish an amusing open letter from a New York-based carriage horse, addressed to Bill de Blasio, who is attempting to abolish the carriage horse trade in the city.
"I have been a carriage horse in Central Park for the past 17 years," the horse, who calls himself Roger, deadpans. "When my owner, Ian, found me, I was a horse nobody wanted. An Amish farmer had taken me from a place where I was abused, but from there I was on my way to the slaughterhouse—until fate intervened."
The horse, though biased, is much smarter than the dog, whose work could have benefited from a fair bit of editing. ("My topic today is the prospect of Republicans gaining control of Congress in the upcoming midterm elections," the dog begins, promisingly, before rambling on about beef jerky.)
"A city inspector has regularly checked to make sure my employers follow safety rules," Roger notes in the letter, which was written to prove to Mr. de Blasio that horses are more well-cared-for than it may seem, despite the incessant howling of animal rights groups like NYCLASS, which has spearheaded the effort to ban the carriage horse trade in the city. "I've had first-class dental and podiatric care, too. Are the bulk of the city's human workers getting the same benefits and care?"
(In one way, the News's letter is a rebuke to Liz Robbins's giant feature on the horse carriage trade in the Times, published in January, which begins, "If only Teddy could talk," alluding to the fact that horses cannot speak for themselves.)
Though the animals' letters are amusing, they are hardly the first instances of journalistic outlets publishing notes from, or interviews with, other species. The best and most notable example is probably E.B. White's wonderfully entertaining "Interview With a Sparrow," which was published, on the same page as a Dorothy Parker poem, in the April 9, 1927, edition of The New Yorker.