At the Whitney Museum's 2011 retrospective for Lyonel Feininger (1871–1956), one of the fascinating little surprises that curator Barbara Haskell presented was that the New York-born painter, who spent the majority of his life in Germany, carved and painted absolutely charming little wooden people and buildings.
So it was fun to walk into the Armory Show's Modern section yesterday and discover that the Moeller gallery, of New York and Berlin, has on view 68 of the figurines, none more than 4 inches tall, all placed together on a shelf as a quaint scene.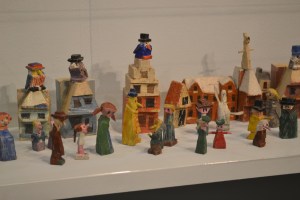 "Around Christmas, or birthdays, or Easter, he gave them to his friends or family members—usually one or two or three at a time," Moeller's CEO and president, Achim Moeller, who is a Feininger specialist, said. He gave these pieces to one of his sons, Andreas Feininger (1906–99), the photographer, between 1925 and 1955. They're titled City at the Edge of the World. The dealer estimates that there only around 250 figurines in existence.
Feininger père started carving and painting wood around 1913, when he was working on a commission for a Munich-based toymaker. "He made moquettes and models for it, which we have at the gallery," the dealer explained. "They're not for sale." These figurines are, though, for $750,000 as a set. "I'd prefer to sell it to a museum," Mr. Moeller said. "So that it stays together."