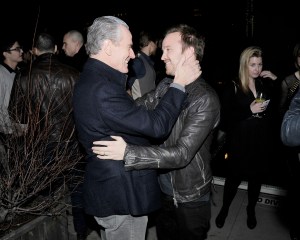 Aaron Paul bounced up and down on his black canvas sneakers outside the Tribeca Grand's screening room last Tuesday night. He was gearing up—terrible pun intended—to introduce The Cinema Society-hosted screening of his Bullitt-redux, Need for Speed. A$AP Rocky rolled past in four-framed, wrap-around sunglasses. Emmy Rossum, just off a plane from SXSW, dutifully posed for photographers. The Breaking Bad star looked liked he could bro-hug his way into anyone's heart.
"No," Aaron Paul responded with an air of mock chivalry, stuffing his hands in the pockets of his AllSaints moto jacket. "I've never talked my way out of a speeding ticket." Really?  "Well," he grinned, one eyebrow arching into an apostrophe at the corner of his right eye. "I've seen a girlfriend do it." Maybe the one he made his wife this past summer? Babies should be on board in the near future, he speculated. But, it turns out, he doesn't much like driving when he isn't on set. His co-star Ramon Rodriguez slipped past, trailing a delicious, conversation-stopping scent. "It's working, then," the Wire–alum said slyly. "Paul Smith."
Afterwards, the crowd drifted over to Jimmy at the James Hotel. Bartenders pushed out amber-hued Bushmills cocktails while a hundred and fifty partygoers noshed on smoked salmon twisted around thin breadsticks. Partiers clustered at the corners of the rooftop deck, steering clear of the small hotel pool situated dead center, some pantomiming the off-balance arm flap of a true social disaster. Thespian Richard Kind skirted its edge, grabbed his bag and headed for the door on the early side. He'd had a late night the previous evening at a staged reading with a crew that included Louie's Pamela Adlon.
Former soap star Kane Manera (Australian) and his girlfriend (American with a slight Australian lilt) huddled up near the bar. "I got out of acting,' Mr. Manera, the former Guiding Light actor said. And into what? "Real estate." He instantly produced an iPhone with a photo of the "perfect deco building" in Hell's Kitchen. Vogue photographer Pablo Frisk dashed by with his Canon in tow.
A few clusters over, Bushmills Irish-born Master of Whiskey, Gerard Graham, was draining a dram. "This man drinks whiskey every day," his co-worker vouched. And often in Kentucky with his distillery buddies. Did he have any scoop on the now-infamous theft of 195 bottles of the world's most expensive and rare bourbon, Pappy Van Winkle? The mystery crept into the pages of New York's newspapers last fall. "I think it was some school teacher," he said, referring to a local high school principle who'd been detained and cleared. "An inside job?" he tried again. We'll alert the local sheriff.
And then Bryan Cranston arrived directly from his presidential turn in the production of "All The Way," still sporting his LBJ 'do, the ends of his copper sideburns peeking out from under the white shellac he hadn't scrubbed out yet. Mr. Cranston gave Mr. Paul a fatherly bear hug. Did Mr. Paul have plans to see his co-star on the Great White Way while he's in town? "Yeah! I'm actually going…." his brunette publicist stops him with the wave of a hand, "Let's not tell everyone exactly when we'll be there, m'kay?"