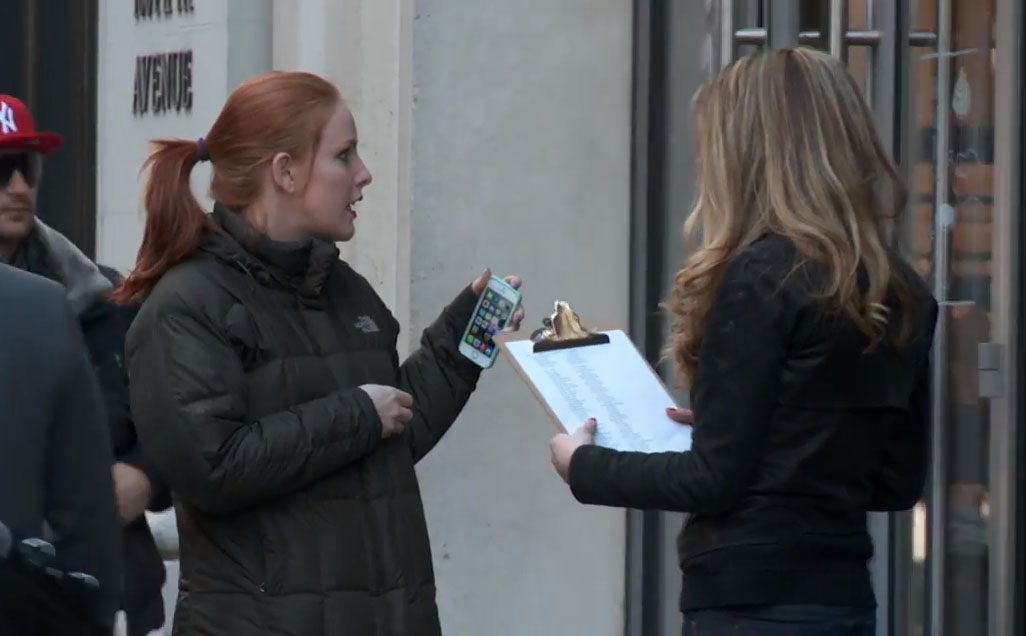 Is Starbucks the new Lavo?
Since Starbucks is beginning to add beer and wine to their beverage list, comedian Jena Kingsley decided the coffee shop needed some crowd control—NYC style.
In her recent YouTube video, Ms. Kingsley, armed with a clipboard, velvet rope, and walkie talkie (iPhone), can be seen denying customers entrance into a NYC Starbucks during the morning coffee rush.
"Do you have a reservation?" she asked.
Unsuspecting customers were confused when the "bouncer" wouldn't let them grab their lattes because the place was at capacity.
"I can fit you in at 3:30," she said.
Men found themselves facing the same problems they encounter going clubbing on Friday nights.
"You know like a club…Like if there's too many men… so maybe if you got some women to go in with you…" Ms. Kingsley said.
"So she can get in, but I can't get in?" one thirsty man questioned.
"Well, she's hot." Ms. Kingsley replied.
The charade went on for a while before the unamused Starbucks baristas shut down the unsolicited help.
They'll be wishing they kept her around when drunkards start rearranging the tables for frappe pong.
[youtube http://www.youtube.com/watch?v=ViMpf7AsjxY&w=560&h=315]