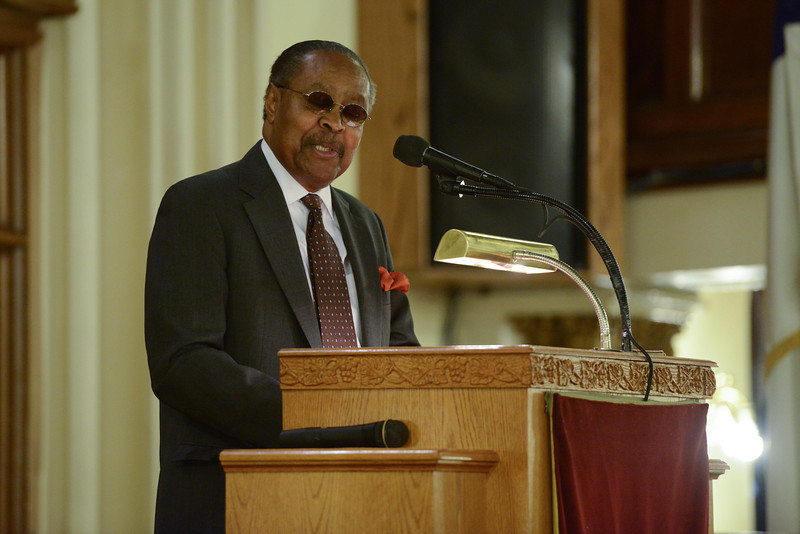 When Clarence B. Jones took the stage at the crowded Convent Avenue Baptist Church in Harlem earlier this month, his presence seemed to fill the room. His enormity was fitting; among civil rights leaders, he is a figurative giant.
"Dr. Jones was at the church to receive the Dr. Martin Luther King Jr. Award, presented by Ambassador Ido Aharoni, Consul General of Israel in New York, the Jewish Community Relations Council and the Jewish National Fund."
Dr. Jones was the first African-American to make partner at a Wall Street investment banking firm. But even more significantly, he was Dr King's trusted attorney and confidant, and he played an integral role in Dr. King's most memorable moments, including the monumental "I Have a Dream" speech. In his own speech at the awards ceremony, Dr. Jones transported the audience back to that day at the Lincoln Memorial in August 1963.
"It was as if some cosmic force came down and took over his body," Dr. Jones, who stood behind Dr. King as he gave the speech, reminisced. "Never had I heard him speak like that before and never did I hear him speak like that again."
Dr. Jones was responsible for drafting the first six paragraphs of the legendary speech, which was the climax of the March on Washington for Jobs and Freedom. He drew inspiration from the Children's March in Birmingham, a student-led civil rights protest that ended when several hundred children were sprayed with fire hoses, attacked by dogs, and arrested. Dr. Jones helped bail the children out of jail, and from that experience came the famous line: "It is obvious today that America has defaulted on this promissory note insofar as her citizens of color are concerned. Instead of honoring this sacred obligation, America has given the Negro people a bad check; a check which has come back marked 'insufficient funds.'"
Despite the obvious power of his material, Dr. Jones told the Observer he did not know Dr. King would use his words until the day of the March. "Most people don't know that the 'I Have a Dream' speech was completely spontaneous," Dr. Jones told the Observer upon the conclusion of the ceremony. Sitting in a plush pew, surrounded by a slew of cameramen, Dr. Jones calmly continued. "Martin had departed from his written text. I gave him handwritten suggested text of what he might consider using," he told us. "Until I heard the speech, I had no idea he was going to incorporate these texts."
Dr. Jones always played a key role in the development of a work he believes is even more important than the "I Have a Dream" speech. The origins of "Letter from Birmingham Jail" existed solely on scraps of paper towels, toilet paper and blank spaces of newspapers, meticulously piled inside the reverend's jail cell. "Martin told me, 'Next time you come, bring me paper!'" Dr. Jones recalled, chuckling. He spent four days secretly helping Dr. King compose the letter, which was a response against a public statement issued by eight religious leaders denouncing Dr. King's demonstrations in the south.
And although he was a crucial character behind "Letter," Dr. Jones did not actually read the finished piece until its publication a week later. "'Letter from Birmingham Jail' is the moral, political manifesto of the 20th century," he said.
After Dr. King's assassination in April 1968, Dr. Jones continued his civil rights work. He served as a negotiator in the bloody 1971 Attica prison riot, and later contributed and was part owner of the New York Amsterdam News. He holds a regular column in the Huffington Post, has authored multiple books, including What Would Martin Say? and Behind the Dream: the Making of the Speech That Transformed a Nation and is a visiting professor at the University of San Francisco.
An uncanny similarity to that of the late reverend resonated in Dr. Jones as he spoke from the pulpit. "He would expect me to be here," Dr. Jones told the congregation. "I must interest his legacy." With the silent hums of "amen" and "Hallelujah" of the congregation, Dr. Jones revived the spirit of Dr. King and his beliefs, moving many to tears.
"An apostle of love and nonviolence, Martin, with the exception of Abraham Lincoln, did more to to achieve economic, political and social justice in America than any other person in the last 400 years."