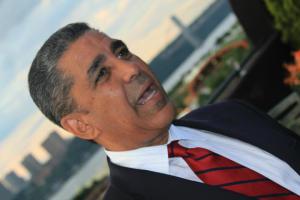 State Senator Adriano Espaillat will hire Red Horse Strategies, a prominent left-leaning public relations firm, to manage targeted field operations for his congressional campaign, sources say.
While Mr. Espaillat also used Red Horse two years ago when he came just shy of unseating veteran Congressman Charlie Rangel, people close to Mr. Espaillat and Red Horse believe the firm's addition to his growing team will help vault the uptown lawmaker past Mr. Rangel, as well as new contender Pastor Mike Walrond, this time around.
"We're going continue to build on Espaillat's strong base but also go into some communities we didn't have resource to go into in 2012," said Matt Rey, a founding partner at the firm. "There are pieces of Rangel support we can win over."
Mr. Espaillat enters his re-match against Mr. Rangel, who represents a district that now stretches from upper Manhattan into the Bronx, with a beefed-up campaign apparatus. Mr. Rey said that his firm didn't begin working extensively with Mr. Espaillat's last campaign until May and will now have far more time to lay the groundwork for a more effective and comprehensive voter outreach operation.
Beyond stirring up its Latino base in upper Manhattan, Mr. Espaillat's campaign hopes to win over new pockets of voters, a source close to Mr. Espaillat said. White liberals dissatisfied with Mr. Rangel, Latinos in East Harlem and voters who turned out for the first time in last year's mayoral primary–so-called "surge voters"–will be among those the Espaillat camp hopes to reach, the source said.
With Red Horse on board earlier, the source added, Mr. Espaillat will also be able to more effectively dig into Mr. Rangel's central Harlem African-American base.
Red Horse had a string of successes in 2013, steering the winning City Council campaigns of Ritchie Torres, Carlos Menchaca, Antonio Reynoso and Helen Rosenthal, along with guiding Melinda Katz to the Queens borough presidency.