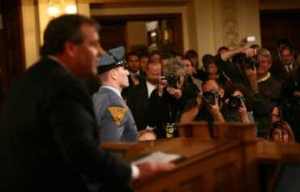 TRENTON – The plainclothes individual snapping pictures of protesters at a Gov. Chris Christie town hall in South River was indeed a member of the New Jersey State Police, according to the state's office of the attorney general.
Acting Attorney General John Hoffman told reporters today during a news conference Thursday his office is conducting an investigation to determine who ordered a state trooper to photograph Christie critics, said agency spokesman Paul Loriquet.
"It is under review. The attorney general is looking into how it all came about," he said. "The attorney general is reviewing who actually ordered the photographs to be taken."
The State Police initially wouldn't confirm the plainclothes individual taking pictures was a member of the agency. However, the attorney general's office is investigating who ordered the pictures and determine if protesters were photographed during other gubernatorial events.
"That's what we're looking into," Loriquet said.
Any photographs of protesters taken by the State Police will be destroyed.
"The photographs that were taken during prior town hall meetings including the ones from South River [will] be destroyed," he said.
Hoffman issued an order barring police officers from photographing at Christie town halls for "security or any other purposes" following reports of a plainclothes individual who later identified himself as a member of the state police was spotted photographing protesters.
The tactic was promptly criticized by an outspoken Democratic lawmaker and by the American Civil Liberties Union of New Jersey.