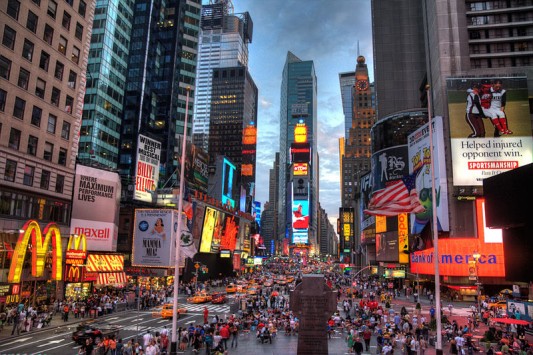 The NYPD is on alert after the Al Qaeda-affiliated online magazine "Inspire" published an article urging readers to set off car bombs, with Times Square as a potential target.
"Among the photos and the encouragement of where to attack there is a photo of Times Square, 47th and Broadway,"  New York City police commissioner Bill Bratton told the Daily News.
Inspire, which the NYPD said influenced the suspects behind the Boston Marathon bombing, wants readers living in America to target crowded places such as election campaigns and sports events. "The important thing is that you target people and not buildings," the Observer read on the site.
The latest issue additionally guides readers how to build bigger explosive devices than those who killed three people in Boston last year.
"We are certainly very concerned by Inspire," Bratton told the Daily News, adding that the latest edition "has instructions on a new larger device."
Those instructions can be found in a section called "Car Bombs inside America," where a writer using the name "AQ Chef" writes that "America is our first target, followed by United Kingdom, France and other Crusader countries," The Times of Israel reported.
John Miller, the NYPD's deputy police commissioner for intelligence said that the NYPD is vigilant. 
"We operate on a near permanent state of alert," Mr. Miller said to Gothamist. "Each day, we evaluate risk and deploy resources to high-profile places or sensitive locations based on intelligence streams and world events. We will factor what we're seeing in Inspire to that matrix."