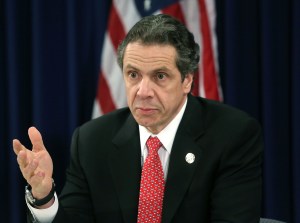 The state budget deal finalized late last night paves the way for the dissolution of the anti-corruption Moreland Commission, Gov. Andrew Cuomo said today.
"If this package is adopted, then I would end the Moreland Commission," the governor told reporters in a conference call this afternoon spelling out details of the budget deal, which includes new anti-bribery measures and a limited test of a publicly-funded campaign financing system.
Mr. Cuomo created the Moreland Commission in July of 2013, arguing that the string of corruption scandals plaguing the state legislature justified the special commission empowered to pursue official misconduct and recommend changes to state laws.
The commission, which has delved into lawmakers' campaign fund-raising and outside employment, proved unpopular among some Albany lawmakers, including Assembly Speaker Shelly Silver, who last month accused it of being a "fishing expedition" meant to intimidate legislators.
Last night's deal, which must still be passed by an April 1 deadline, increasing penalties for bribery and establishes an independent enforcement officer at the state's Board of Elections, who would have an enforcement staff and serve as a tie-breaking fifth vote on a board that is currently comprised by two Democrats and two Republicans, "resulting in gridlock," the governor said.
It would also create a "demonstration program" for publicly financing elections, similar to the system in place in the city, using the 2014 state comptroller's race.
The set of proposals is far less ambitious than what the governor first proposed, but nonetheless, he said, satisfies the conditions he set when he first created the commission to delve into lawmakers' activity.
"I proposed an ethics reforms package last year, changes to the bribery law, independent enforcement of the board of elections, etc. … I asked the legislature to pass it. I said if we didn't come to a satisfactory conclusion then I would appoint the Moreland Commission," he said. "We didn't come to a satisfactory conclusion. I appointed a Moreland Commission. I said after that, if we came to a satisfactory conclusion on a public trust package that I would end the Moreland because I was more interested in system reform. And that's what this package is."
Manhattan District Attorney Cyrus Vance also praised the changes.
"The inclusion of anti-corruption legislation in this year's budget is a win," he said in a statement. "This strengthens our public corruption laws by increasing penalties for bribery offenses, and by enhancing the ability of prosecutors to root out corruption by beefing up our ability to prosecute attempts to bribe public officials."