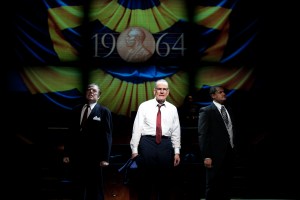 The curse, and the blessing, of an initials-based moniker is that those simple, monosyllabic sounds rhyme with so much. There's "Hey, hey, L.B.J., how many kids did you kill today?" the chant of the college-age protesters who successfully drove Lyndon Johnson from continuing his 1968 reelection campaign, but there was also its earlier, more hopeful counterpoint. "All the Way with L.B.J." was the enthusiastic mantra of his 1964 campaign effort, and that declaration is the basis for the otherwise anodyne title of the anything but anodyne L.B.J. bioplay that opened last week at the Neil Simon Theatre.
All The Way stars a lip-smacking and lip-smackingly good Bryan Cranston, TV's erstwhile Walter White, as President Johnson, and it features a crackerjack supporting cast—notably John McMartin as Senator Richard Russell, Michael McKean as J. Edgar Hoover, Betsy Aidem as Lady Bird (and others) and William Jackson Harper as Stokely Carmichael—as it examines one year in Mr. Johnson's life, from his assumption of the presidency on Nov. 22, 1963, to his landslide re-election on Nov. 3, 1964. It's a fascinating, and surprisingly emotionally resonant, portrait of a complicated man, and it makes a strong argument that his great triumphs are as worthy of attention, if not more so, than the tragic failures for which he is most remembered.
In the first year of his presidency, Mr. Johnson wheeled and dealed to pass the Civil Rights Act of 1964, which, together with the Voting Rights Act of 1965, forms the legislative bedrock of the 1960s civil rights revolution. He laid the groundwork for his War on Poverty. He also began the escalation in Vietnam that would be his undoing. And, at least according to All The Way, the pressures of all of this began the mental unraveling that would turn him from a generous-minded liberal hero to a bunkered, paranoid object of liberal scorn and hatred.
The action is staged on a set with a semi-circular tiered dais surrounding the main playing space. Those seats serve as Congressional hearing rooms, and as spots for ever-present observers to sit and watch, but mostly they render the stage a coliseum, with everything that happens a battle, or maybe a courtroom: L.B.J. is always on trial. Mr. Cranston is on stage for nearly the entire play, and the show is his. He inhabits the president—gawky, bullying and profane; it is a very actorly performance, without much subtlety, but he's admirably dedicated to it, straining, sputtering and exerting and then exhausting himself over three hours. It's a long show, but under the direction of Bill Rauch, the artistic director of the Oregon Shakespeare Festival, which commissioned the play, it moves quickly and engagingly. The end of Act One, as the Civil Rights Act passes the Senate—a result we all know was coming—is suspenseful, redemptive and, remarkably enough, moving.
Robert Schenkkan, the Pulitzer Prize winner and Tony Award nominee (for The Kentucky Cycle) who wrote the crispy, structured All The Way, would likely describe it as a warts-and-all portrayal of Mr. Johnson. Certainly, the president is, at moments, viciously mean to Lady Bird, dismissive of an unattractive secretary, repulsed by the YMCA restroom revelations of his aide Walter Jenkins' homosexuality and all too happy to use the F.B.I. to gather intelligence on his enemies and friends. But mostly it is hagiographic.
We see President Johnson's "Texas twist" in full force—the duplicity, favor-trading and blackmail he used to get his way, the allies he abandoned and the legislators he outmaneuvered. But like any eager job candidate, he does all these things only because he cares so much. By the play's end, L.B.J. is elevated to the pantheon, placed on equal footing with Martin Luther King as a redeemer of our country.
That's a bold suggestion in a post-Vietnam America. But it's not necessarily an unfair one, and All The Way makes a powerful case.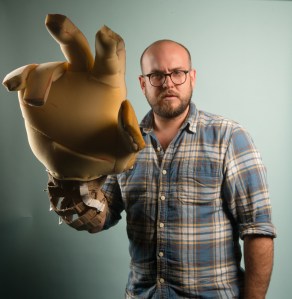 With the recent Academy Awards ceremony, Bobby Lopez is a newly crowned EGOT—the winner of an Emmy, Grammy, Oscar and Tony. But as of this week, the Avenue Q songwriter is no longer the progenitor of New York's dirtiest puppet show. That title now belongs to Hand to God, a hilariously funny, graphically dirty, gruesome, disturbing and unexpectedly tender dark puppet comedy that opened Monday night in an MCC Theater production at the Lucille Lortel.
Jason (Steven Boyer) is a shy, unhappy boy in a small Texas town. His father has died, and he's trying to be a good person. His mother, Margery (Geneva Carr), is active in the local church, where she leads an after-school group devoted to creating religiously themed puppet shows. Jason is in her class, as is Jessica (Sarah Stiles), who's awkward and goofy and who Jason pines for, and Timothy (Michael Oberholtzer), a smartass, swaggering kid who bullies Jason and flirts with Margery. There's also Pastor Greg (Marc Kudisch), who has a crush on Margery and isn't above making pastoral passes. Jason has his own nonreligious sock puppet, Tyrone, that rarely leaves Jason's hand, may or may not have a personality of its own and may or may not by possessed by the devil (or maybe Jason is?).
The cast is uniformly strong, but it's Mr. Boyer that steals the show. His role is complicated—shy boy, angry boy, villainous puppet—and he not only carries off each but, more remarkably, effortlessly shifts among them. His Jason and Tyrone version of "Who's on First?" is a thing of beauty; his tonal shifts as Tyrone eventually attacks Jason, sometimes verbally and sometime physically, are nothing short of remarkable. It can't be easy to play both wounded child and marauding monster; it must be even harder to do both in the same scene, against each other.
Written by Robert Askins, directed by Moritz von Stuelpnagel and previously staged to acclaim at the Ensemble Studio Theatre (where I did not see it), Hand to God is a silly puppet show, a drive-by indictment of religion's pious platitudes and a sex farce in which a horny teenager seduces a lonely widow with a repressed S&M streak and two nice-kid teens talk about feelings while their hand puppets go at it doggy style. But embedded in that is the story of a sad, grieving, lonely boy who doesn't know how to communicate his feelings, to get the love he needs. Puppets or not, dirty or not, devil or not, it's the most entertaining show I've seen so far this year.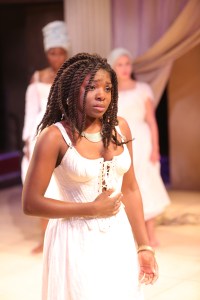 The new take on Shakespeare's Antony and Cleopatra that opened last week at the Public Theater, a coproduction of the Public, the Royal Shakespeare Company and Miami's GableStage, is billed as having been edited and directed by Tarell Alvin McCraney. Mr. McCraney, whose lovely, lyrical Brother/Sister Plays ran at the Public several seasons ago, is a resident artist at that company and a recipient of the most recent round of MacArthur "Genius" Grants.
And yet, surprisingly, the editing by such a talented playwright feels almost invisible; the script feels fully Elizabethan, more or less original. Promotional materials describe the play as transported to 18th-century Saint-Domingue, a French colonial Caribbean outpost, but the lilting West Indies accents, hints of voodoo and drum-and-guitar music combined with the script's discussions of Alexandria and Rome, Sicily and Sardinia, leaves the classic story placed in both places and neither, a weird hodgepodge of locations and influences.
Where Mr. McCraney excels, though, is in his directorial duties. The designer, Tom Piper, has built one of the most monumental sets I can recall seeing in the Public's Anspacher Theater, with a towering stone wall upstage, Corinthian columns across the stage (to match the former library space's own structural supports) and a shallow pool at the back. On this pretty space, Mr. McCraney creates some beautiful stage pictures, aided immeasurably by his electric starring duo, Jonathan Cake and Joaquina Kalukango.
Binational, biracial cast notwithstanding, this innovative young playwright has brought us a lovely, well-acted, fairly traditional Antony and Cleopatra.