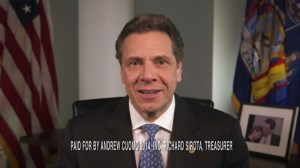 Gov. Andrew Cuomo today released a batch of ads, which focus on some of his signature policy initiatives.
The three advertisements, paid for by the governor's campaign account, promote Mr. Cuomo's support of property tax cuts and his opposition to Common Core testing.
Their release comes just as Mr. Cuomo's possible Republican rival, Westchester County Executive Rob Astorino, ramps up his gubernatorial bid.
"Here in New York, Democrats and Republicans, working together, have made much progress. And we will do even more," Mr. Cuomo says in the ad aimed at both upstate and downstate residents. "One of my top legislative priorities for the session is to cut property taxes. They are simply out of control. My plan will cut taxes by requiring local governments to work together."
"Remember: cutting taxes also creates jobs in New York," Mr. Cuomo adds, before urging the view to "tell your legislator to support my property tax cut plan."
Mr. Cuomo is currently sitting on a massive $33 million campaign war chest. The amount of money is formidable for any potential challenger, including Mr. Astorino, who has raised just about a million dollars so far.
The ads, observers say, are likely to be the first of an onslaught from Mr. Cuomo.
View the ads below:
[vimeo 88089123 w=500 h=281]
[vimeo 88089023 w=500 h=281]
[vimeo 88089021 w=500 h=281]