A nine-day blitz of Asian art blankets New York, beginning today and running until March 22.
Scattered around town are Asian treasures: Persian miniatures, Punjab paintings and textiles, Chinese antiquities and even contemporary paintings.
Talk about exploding growth.  This year, the number of dealers, from New York, Europe and further points, taking part in Asia Week tops out at 47 compared to a scant 14 six years ago.  In addition, five auction houses, 19 museums and cultural institutions from the Asia Society to the Brooklyn Museum are participating.
Last year, the entire series of selling events roped in a staggering $175 million.  But it wasn't always such a highflying market.  Just a decade back, Christie's rang down only $20 million; this time around, the Rockefeller Center auction house is betting on a total take of $70 million-plus, and Sotheby's is aiming for $43 million.
Who are the fans? The Oracle CEO Larry Ellison, 69, whose net worth of a tidy $48 billion makes him the fifth-richest man in the world. He has a penchant for pricey gold ground Japanese screens and serene 11th century Buddhas. Then there's billionaire Wilbur Ross, who picks up distressed companies and triples his money, and favors contemporary Chinese sculpture. Richard Gere is another A-list collector.
To woo Mr. Ellison and other heavyweights, the auction houses and dealers boast a fleet of big-ticket items.  On the block at Christie's is the ultimate bronze ritual wine vessel dating from 12th century B.C.  Expected to score $15 million, this one's massive and weighs a staggering 92 pounds.  They're also touting a gleaming Chinese gilt bronze Buddha dating from the 11th century tagged with a $1.5 million–$2.5 million estimate.  In addition, prize Ming blue and white porcelain is also bound to go through the roof.
"What's new to the market is that the under 40 set in China are interested in antiquities and the competition is fierce," Carol Conover, a Chinese art dealer who heads up Asia Week New York, told The Observer. Why the shift? It's a relatively untapped market. "They haven't had dealers in their own country for 50 years," she explained.
Choice Chinese gold like a small mask used to decorate an emperor's furniture, bronzes and Tang terracotta figures can be found with Brussels dealer Giséle Cröes. "Now, more Chinese clients come for this event than go to TEFAF [The European Fine Art Fair in Maastricht]," said Ms. Cröes.
With their newly found wealth, the Chinese will aim for the steeply priced items like the mask. But there's a raft of material for a trifling $5,000 and under both at auction and with dealers.
Carol Conover of Kaikodo has Mansheng Wang's 2013 ink on cardboard After Snow for $2,000.  "With his recent show at the China Institute, this artist appeals to a wide range of collectors," said Ms. Conover.
Over in the Fuller Building, the gallery building on East 57th Street, J. J. Lally, who routinely sells to major museums, has a Chinese pottery amphora from the 3rd century B.C. for only $3,000. It's got the kind of uncluttered lines that attract both art and design buffs.
Bargains galore can be spotted at Sotheby's where a Chinese Neolithic jade bracelet could go for as little as $2,000. Period Chinese furniture seems a particularly good buy. At Christie's, there's a 19th-century jichimu ("chicken wing wood") display cabinet.  "It's supercool," said Michael Bass, head of Chinese works of art department, of the cabinet, which is intricately carved with nooks and crannies. It should go for $8,000-$12,000 on March 21.
Much is certain to tempt contemporary art collectors. For example, Paris dealer Jacques Barrere is touting a Chinese Waring States Period 475 B.C. carved wood deer with real antlers.  It's antiquities, Pop and Koons all rolled into one for a reasonable $200,000.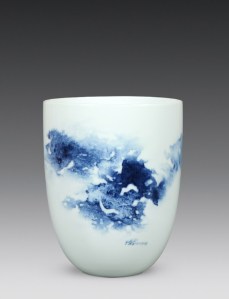 London dealer Michael Goedhuis is sporting contemporary artist Wei Ligang's paintings, which are his twist on calligraphy and a touch Brice Mardenesque.  Sublime contemporary ceramics are with Beatrice Chang's Dai Ichi Arts.
Other notable exhibitions in New York this week are not part of Asia Week per se, but are definitely worth checking out. The Japanese Art Dealers Association is hosting an impressive lineup of five specialists at the Ukrainian Institute on East 79th Street at Fifth Avenue from March 15 to 19.  Private dealer Leighton Longhi offers up an Edo-period jimbaori, a feathered vest with a riveting target design far predating Alexander McQueen. That rarity's got a mid-six-figure price tag.
On view at Pace Prints are notable works by Jian Ling and others. Fitzgerald Fine Arts is showcasing distinctive work by ceramic and ink artists.
The buzzy round of events ranks high in the greater art world. As Mr. Goedhuis put it,  "This week has become the dominant aesthetic experience in America of the titan cultures of the East."