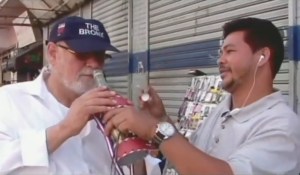 Assemblyman José Rivera said he did not mean to offend anyone with a bizarre video that appears to show the Bronx lawmaker discussing the sexual benefits of "mamajuana" and ogling young women in the Dominican Republic.
"Assemblyman Jose Rivera did not mean to offend anyone, if anyone was offended by the video," his chief of staff, Jasmin Clavasquin, told Politicker this morning.
The video appears to have been originally posted on the assemblyman's active YouTube account, where it was spotted by NY1 political commentator Gerson Borrero. "I think this video of Jose Rivera in the DR can get some folks in trouble," he wrote on Twitter Sunday, linking to the video, which was subsequently deleted from the assemblyman's page. Mr. Rivera is well-known for his films.
But Andrés Duque, who works at a nonprofit and blogs about Latino and LGBT issues, said he noticed the tweet and quickly downloaded the video. He soon re-posted an edited version that includes English subtitles of the Spanish speech.
The version he posted contains three sections.
In the first, Mr. Rivera, wearing a blue "The Bronx" hat, is shown strolling down the street, chatting with strangers and "enjoying all the beautiful things this country has to offer," according to Mr. Duque's translation, which was verified by two Spanish speakers at the Observer.
"Do you happen to have a little sister?" he asks one woman, who replies in the negative. "Ah, well, that's my bad luck!"
He then approaches a vendor to discuss "mamajuana"–a traditional alcoholic beverage made with rum, red wine, twigs and bark that is a rumored aphrodisiac. The vendor explains the drink is made with different roots:
RIVERA: From different roots which leaves me feeling…
VENDOR: Hard!
RIVERA: Strong enough to get laid with all those young ones. (Said as he points off-screen.)
VENDOR: A child! A little girl! (He laughs.)
The assemblyman then takes a whiff of the beverage and jumps up and down dramatically, before showing off his purchase to the camera.
In the third section, Mr. River appears to take command of the camera, and is joined by a man identified by the video as former Assemblyman Adam Clayton Powell IV. The pair proceed to chat up a young woman, asking her if she knows anyone in New York and her name.
"Where do you live, what is your street address. What are your body measures?" Mr. Rivera asks her. The video ends with a close-up of the young woman's behind.
Mr. Duque said that watching the video made him "cringe."
"I'm a Latino guy, so I sort of try to fight against stereotypes of machismo and misogyny. So I sort of cringed because it's sort of all of these stereotypes into one," he said. While the behavior is not unusual, he said, "for somebody who's a representative to do this and then post it on their YouTube page … it made me cringe."
Ms. Clavasquin did not respond to other questions about the video, including when it was shot.
The unedited version of the video, which Politicker has viewed, begins with Mr. Rivera, in the drivers seat of a horse-drawn carriage, saying he is appearing "Live from Santo Domingo!"–the Dominican Republic's capital.
"Viva la república!" he yells as he makes his way through the city, exploring historic sites and later salsa dancing with a pair of women.
Update (5:44 p.m.): Mr. Clayton Powell IV told Politicker via Facebook that the video was taken, "Around. 2004-2005 when Jose and I were young & sexy…..now we're old & fat!!!"
Mr. Rivera also told the Daily News that he was "just joking" in the video, which he said had been filmed in 2005.
"It was a walking tour through the area and I just was joking with the people, walking around. Obviously I said something out of line, that could be misconstrued. But I was joking. We were just joking throughout the event," he told the paper, adding that, "It was never my intention to hurt anyone."
He went on to day that, "If you hear the conversation, it could be interpreted as I acted inappropriately. I said the wrong thing. This is different times now than our lifetimes. If you were able to use the whisle of the wolf, it was okay in the old days. You can't do that no more."
View the video and read the transcript below:
[youtube http://www.youtube.com/watch?v=GQE0kX3GZWA]
And here is the transcript, as translated by Mr. Duque:
RIVERA: Here's my younger brother…
STRANGER: I'm younger brother!? (laughs).
RIVERA: …enjoying all the beautiful things this country has to offer. Ain't that the truth, brother?
STRANGER: Yes, my friend…
RIVERA: Congratulations! And where did the young girl go?
YOUNG WOMAN: Here I am.
RIVERA: Well, do you happen to have a little sister?
YOUNG WOMAN: No.
RIVERA: Ah, well, that's my bad luck!
—-
RIVERA: At last we've cleared up the definition of "mamajuana" – It's not marihuana. It's a beverage…
VENDOR: It's a beverage made from different roots…
RIVERA: …from different roots which leaves me feeling…
VENDOR: …hard!…
RIVERA: …strong enough to get laid with all those young ones…
VENDOR: A child! A little girl! (laughs)…
RIVERA: Listen, we'll have to take some of this 'mamajuana' back [to NY]. How do you open this? I'm taking it with me. How much is it?
VENDOR: 300 pesos or 10 dollars.
RIVERA: For 10 dollars it is worth taking this powerful potion from the great Dominican Republic with me.
—
RIVERA HOLDING CAMERA TO FORMER NYS ASSEMBLYMEMBER ADAM CLAYTON POWELL IV: Damn! Come on! Get your hand in there! (Note: A native Spanish speaker on the Observer's staff said this would be more accurately translated as, "Come on, go talk to her or say something to her.")
CLAYTON-POWELL: Hey, greetings, 'mami'.
RIVERA: Greetings!
WOMAN: Greetings to all my friends from New York.
CLAYTON-POWELL: Do you have friends or family over there [in New York]?
WOMAN: Yes, I have some friends.
CLAYTON-POWELL: Friends? Well, you already have two more friends.
RIVERA: Your name?
WOMAN: Nairobi.
RIVERA: Nairobi? Ah! Here is where I'll stay. I am staying here! I am not going back… [to CLAYTON-POWELL] Are you heading back?
CLAYTON-POWELL: No! I'm staying right here with Nairobi.
RIVERA: Where do you live, what is your street address. What are your body measures?
[Camera pans down woman's body]