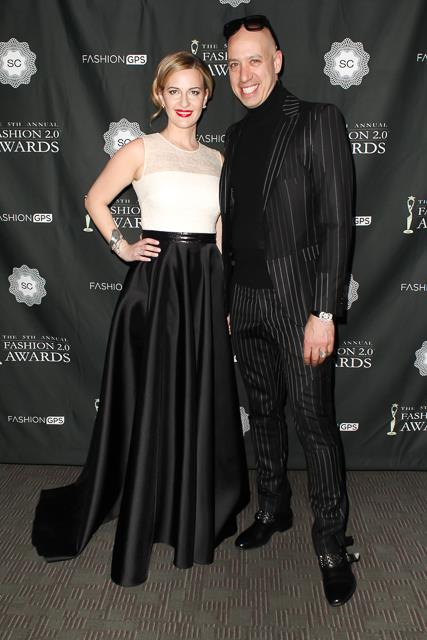 Awards shows are never short on stuffiness masquerading as decorum — and you'd think that a ceremony for fashion industry insiders might be extra-uptight. But last night's Fashion 2.0 Awards were anything but.
This was the fifth annual iteration of the awards show, which recognizes the fashion brands that use digital media best. The awards presenters are style bloggers and the honorees are fashion mavens who usually stay behind the scenes. The resultant atmosphere was laid-back, fun, modern and irreverent.
Guests arrived at the Merkin Concert Hall on West 67th Street and had their pictures taken in the carpeted lobby while bloggers milled about. Since many of the honorees were social media directors and bloggers, the lines were blurred as to who should be in front of the calendar and who should be behind it. We heard more than one pair of style bloggers (don't they always socialize in twos?) wonder, "Should we go in front of the cameras or no?"
The dress code was black tie, but most guests went semi-formal. After all attendees took their seats inside the auditorium, host and celebrity stylist Robert Verdi, of Fashion Police and Full Frontal Fashion fame, cracked the crowd up with his opening remarks. He pitched some goofy fake websites like WasteOfaGoodOutfit.com and WoodyAllen.eeew, as well as this pretend book: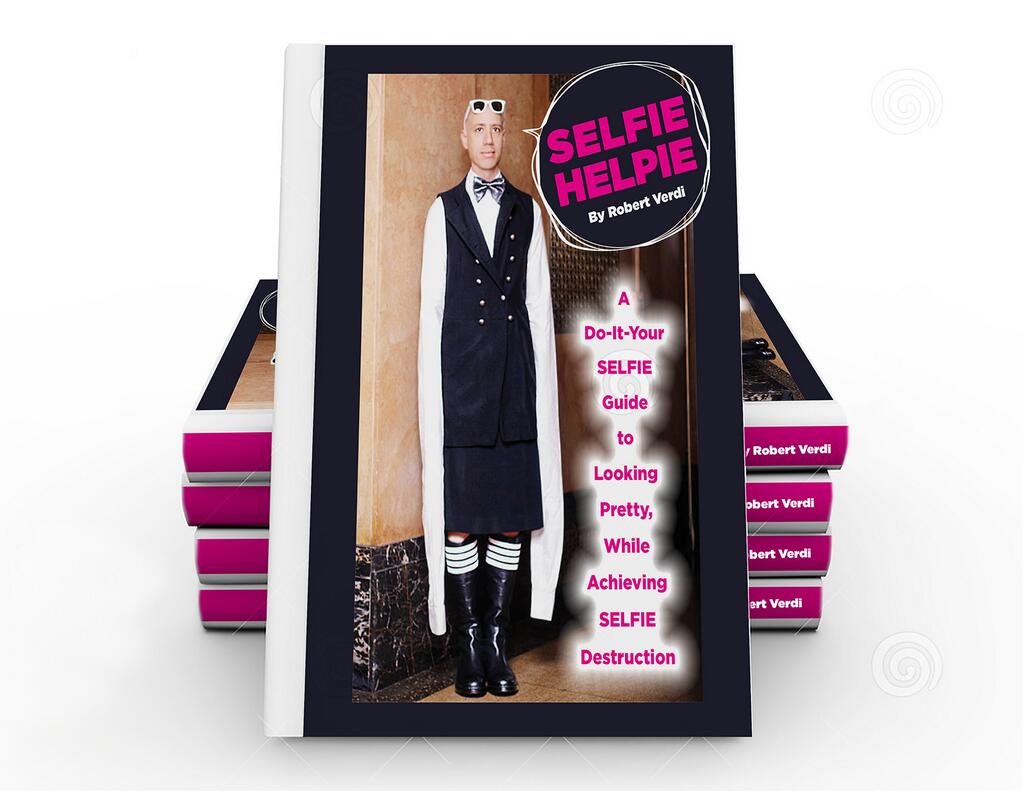 Mr. Verdi later joked that he was tempted to introduce keynote speaker Zac Posen as "the wickedly talented, one of a kind Zane Peterzorn." The designer and supermodel Coco Rocha were the biggest names of the night, sitting together in the front row of the auditorium. Ms. Rocha was in full-on model mode, wearing a skin-tight black dress with a plume of feathers over her right shoulder and sporting cropped hair that wouldn't move an inch but also didn't look shellacked.
At the first Fashion 2.0 Awards in 2010, founder Yuli Ziv said, no such bold-faced names were present. The event has grown immensely since then, as has social media itself.

"Five years ago, there was no Instagram, there was no Pinterest," Ms. Ziv, who also heads the Style Coalition, told the crowd. "Five years ago, no one came to this event but one brand: DKNY … Back in 2010, admitting to using social media in public made you look like a freak."
Appropriately, DKNY's Twitter account is run by the best-loved social media maven in the world of fashion brands, Eliza Licht, better known as DKNYPRGirl. Ms. Licht took to Twitter years ago, before most brands even knew what the social network was — and it paid off. Through Ms. Licht, DKNY cultivated a conspiratorial, smart voice on social media that is much more interesting than the typical "Check out our new ad campaign!" fare. Ms. Licht scooped up the Best Online Video award on behalf of DKNY later in the ceremony.
Ms. Rocha took the stage later in the night to present the Top Innovator Award to the low-priced online retailer Asos.
"This year, the Internet and I both turned 25," Ms. Rocha, who has an immense social media following of 13 million people worldwide, told the audience. "For decades, the industry standard was for models to be seen and not heard … Social media helps me to be more than just a face."
The awards ceremony lasted less than two hours, with an interlude in the middle caused by Lucky editor-in-chief Eva Chen getting caught in a traffic jam when it was her turn to speak. Mr. Verdi killed time in between, opening the floor for questions and advising would-be fashion bigwigs, "Don't be afraid to work."
Here's a list of the Fashion 2.0 Awards winners:
Best Twitter winner: @MarcJacobsIntl
Nominees: @Burberry, @DKNY, @KateSpadeNY, @MichaelKors
Best Facebook winner: Asos
Nominees: Burberry, J Brand Jeans, Michael Kors, Ralph Lauren
Best Instagram winner: Marc Jacobs
Nominees: Free People, Nasty Gal, Rebecca Minkoff, Zac Posen
Best Pinterest winner: Nordstrom
Nominees: Free People, J. Crew, Kate Spade, Tory Burch
Best E-Commerce winner: Net-a-Porter
Nominees: Asos, Moda Operandi, ModCloth, Shopbop
Best Online Video winner: Chanel – "Once Upon a Time"
Nominees: Free People – "Roshambo," H&M – "David Beckham Bodywear," PRADA – "Castelo Cavalcanti" by Wes Anderson, Ralph Lauren – "The Dog Walk"
Best Online Campaign winner: DKNY – "DKNYDraft"
Nominees: Burberry – "Sending Kisses"; Coach – "COACHfromabove," GAP – "Back to Blue," Polo Ralph Lauren – "Survival Guide"
Best Fashion Startup winner: Acustom Apparel
Nominees: 72Lux, Rank & Style, Wearable Experiments, Zady
Best Wearable Tech winner: Nike Fuelband
Nominees: Cuff, Google Glass, Jawbone UP, Pebble Steel
Digital Navigator winner: Eva Chen, editor-in-chief of Lucky
Fashion 2.0 Visionary Award: Neil Blumenthal and David Gilboa, founders of Warby Parker
Top Innovator winner: Asos
Nominees: Burberry, DKNY, Michael Kors, Ralph Lauren