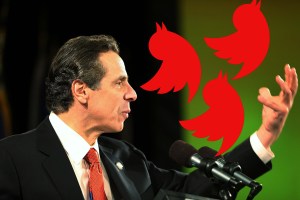 The governor of New York is extremely amused by the concept of an "attack tweet."
Andrew Cuomo was asked today about City Council Speaker Melissa Mark-Viverito's apparent social media broadside, in which she seemed to criticize his "SILENCE" on the East Harlem building collapse that rocked her district last week.
"Tax 500k + earners=outrageous, hedge fund backed charters=enthusiastic support, raise min wage=not on my watch, #EastHarlemExplosion=SILENCE," Ms. Mark-Viverito Tweeted Saturday evening–a likely reference to Mr. Cuomo's support for charter schools and his opposition to New York City raising its own income taxes and minimum wage.
But before answering the question, Mr. Cuomo got diverted by the inquiring reporter's use of the phrase "attack tweet" to describe Ms. Mark-Viverito's missive.
"Attack tweet?" asked Mr. Cuomo, speaking at an unrelated Albany press conference this afternoon. "Is that a new kind of tweet? A special tweet? Does it come over a different kind of device?"
Laughing, Mr. Cuomo continued rolling with the joke.
"I want to send an attack tweet. Send an attack tweet to [Daily News reporter] Ken Lovett, right now," he added, chuckling for several seconds. "It comes across in red, something like that, with little daggers."
As for the substance of the question, Mr. Cuomo had little to say about any rivalry between him and the speaker.
"I've not spoken to her about it, no," he succinctly offered.