A season of extroverted, hallucinogenic painting continues apace with Austin Lee's auspicious solo debut at Postmasters, which teems with small, hazy, neon-pitched cartoon portraits—more than 70 hang salon-style on one wall—that he has whipped up with just a few airbrushed moves. His lines have the awkward intuitiveness of a finger working an iPad, which he often uses to make preparatory drawings. Eyes are dots, fast black scribbles shaggy-dog hair. Some canvases contain only nebulae-like fields, digital avatars coming in or out of focus. With that economy of means, he serves up prodigious psychological turmoil, his faces registering many varieties of pleasure and fright. They're James Ensor's masks or Peter Saul's monsters updated for an age in which identities no longer hold their shape for long.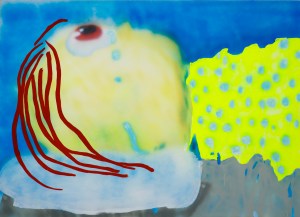 Light-hearted goofs and antic dread fight it out in the few larger paintings. Is that a pink finger or a penis emerging from beneath the ":-("-faced painter's palette? Why is that upright yellow cat smoking a cigarette, and why does he look so worried? You sense that dread will win the day. In Dropsy (all works 2013), Mr. Lee does late Philip Guston, placing a spectral gender-neutral cyclops alone in bed in an electric-blue room—its one eye staring toward the ceiling, streaming tears.
I read the show's peculiar title as the interior monologue we all have running in our heads as one compromise follows another throughout the day. Perhaps personifying that process is an everyman character—blue pants, red shirt—who appears twice, cut from wood panel, almost life size, and painted so that he seems to be rustling, buffeted by unseen forces. In Mordito (Freud's death drive), filled with wordless terror, he's running. In Displaced, he's high on the wall, apparently mid fall, but held in place, for now, with a single nail.
(Through March 8, 2014)