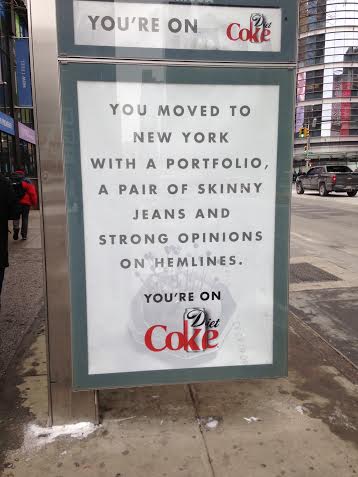 Coca-cola is pretty much a drug already, but the soda's new ads are hitting a little bit too close to home.
New Yorkers have been noticing a new string of ads for the soda that play with the not-so-lighthearted subject of cocaine addiction. The ads, in the form of posters and billboards, all have the similar theme of addressing someone coming to the Big Apple with big city dreams, then dramatically saying "You're on." Closely followed by the word "Coke."
You're on. Coke. You're on Coke. See what they did there.
Dr. Arnold Washton, an addiction specialist that has written numerous books on substance abuse, doesn't think it's so funny.
"It sounds a little strange to me," Mr. Washton told the Observer. "To my ears it's like nails on a chalkboard, because obviously I've worked with people dealing with addiction."
But the "nails on a chalkboard" effect may be purposeful. It is grating, but it grabs a passerby affectively. According to the health department, 6 out of 10 people who die from a drug overdose in New York City show signs of recent cocaine use.
"It is obviously going to get attention, that is what is meant to do," Dr. Washton said.
Judging by social media, he isn't wrong. Tweets abound concerning the controversial ad, created by none other than Droga5.
This is real. Coca Cola's new slogan really seems to be "You're On Coke." pic.twitter.com/3sTHTFPmXO

— David Roth (@david_j_roth) March 1, 2014
Wait, does this ad really say, "You're on Coke"? pic.twitter.com/QO2urebSnF

— Patrick Carone (@pjcarone) February 26, 2014
Coke has defended the slogan, telling the New York Times it was an "uplift for those moments when you really need to be on."
We can relate to moments we really needed to be on, but we can never recall adding a certain narcotic-sounding word to that sentence.