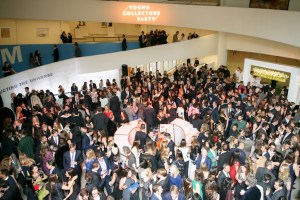 The fresh-faced businessmen at The Young Collectors Gala at the Guggenheim last week wore dandified velvet blazers and purple pocket squares while nibbling on the scoops of ice cream and caviar provided in the museum's rotunda amidst a festive assortment of tulips.
They talked about how the Asian art scene buyers are not what they once were but how money is pouring in for blue-chip pieces from the Middle East. They talked about leaving newly purchased art works in their shipping crates and re-selling them a year later at a profit. They insisted that they not be quoted because, at the very least, their investment bank has rules against that sort of thing.
Countering these Grand Poobahs were genuine members of the art world, like Benjamin Godsill, a specialist in contemporary art at Phillips, whose own dandy-ish look at least had a layer of irony. Given the character of some of the men The Transom crossed paths with at the Guggenheim, we posed him the question of whether art was just another way of investing money.
"That's a facile understanding!" he scoffed.
If you want to collect something that simply gives you pleasure, why choose art over, say, rubber stamps?
"Art that someone makes in their studio alone when taken in conjunction with other artists work tells a narrative story of the human experience, unlike any other thing," Mr. Godsill said. "For someone who might have to work in business or any other realm, to wake up and be surrounded by these diversions, whether you realize that or not, affects who you are and how you live your life, in a way that stamps never could."
Anne Huntington, a member of the YCC council, which supports the Guggenheim's acquisition fund, admitted as a collector herself that "it would be wrong to say we're blind to the market." But she said, "there has to be a gut reaction, and an absolute necessity to have something. But that need shows what's happening in the market today. Other people have that, and it's a ripple effect, and then the market takes notice."
What is that gut reaction? Ms. Huntington said, "It feels like it is an absolute need. One collector once told me I'm in AA – Artists Anonymous. It's literally this addiction where you need something when you see it."
Noreen Ahmad, another member of the council, said that personally she has "never bought a piece of art for investment purposes. I suppose you could…" you could, we nod, you could, "but I only purchase art because I've fallen in love with something."
Guests had the opportunity to wander around the museum's scholarly show of Italian Futurism, a movement for which the founding manifesto by F.T. Marinetti includes the line, "Death, tamed, went in front of me at each corner offering me his hand nicely, and sometimes lay on the ground with a noise of creaking jaws giving me velvet glances from the bottom of puddles." Many of them stuck around the rotunda, opting instead for the frosted donuts.