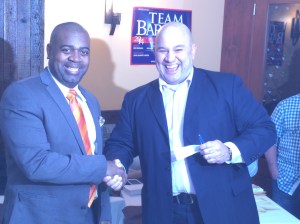 NEWARK – Newark mayoral candidate and South Ward Councilman Ras Baraka rolled into the basement of an Ironbound restaurant on a roll Wednesday night.
In recent weeks, Baraka has stacked up labor endorsements, as well as the nods of former Governor Richard Codey and Jersey City Mayor Steve Fulop. Baraka walked down into a cheering crowd of more than 50 supporters in the basement room of Portucale restaurant in the East Ward moments after he and rival Newark mayoral candidate, former Assistant Attorney General Shavar Jeffries, sat before the leadership of the Newark chapter of the Fraternal Order of Police (FOP), seeking its endorsement.
But before Baraka spoke to the crowd, longtime Newark political operative Pablo Fonseca (former chief of staff to then-Mayor Cory Booker), who helped organize Wednesday night's fundraising event, felt compelled to clear the air.
"People try to say Pablo and Ras are fighting. I'm not fighting with him. I'm fighting for Ras Baraka 150 percent," Fonseca said. "They say Ras has got to win this race in the South Ward. We say no. We say he's got to win in it in the East and in the North Wards. This is not a South Ward race. This is a whole city race."
"Pablo and I have not always been on the same side, but we have come together," Baraka said. "That's the only way we're going to save this town. We have to get rid of these wards, and start focusing on our neighborhoods – Weequahic, Ironbound, Ivy Hill. It's time to find the way for our neighborhoods to connect."
There have been repeated rumors in Newark political circles in recent weeks that the connection between Baraka and Fonseca has become frayed after Crystal Fonseca, Pablo's eldest daughter, was not selected to be on Baraka's School Board Advisory slate last week. Additional rumors of Fonseca being involved in fundraising activities inside of City Hall added to the murmurs.
In separate interviews with PolitickerNJ.com this week, both Baraka and Fonseca denied these rumors, with Fonseca calling them "absolutely false" and Baraka noting that the was looking to put Chrystal Fonseca on his school board slate next year.
"Nobody wants Fonseca and Baraka together," Fonseca told PolitickerNJ.com on Wednesday night, standing next to Baraka. "It's our opponents who don't want that."
"I've never spoken to Pablo about who he was selling [fundraising] tickets to or why, or anything like that," Baraka said.
The basement fundraising event saw some top political names in attendance. Besides former Newark Police Director and current Irvington Police Director Joseph Santiago, several members of Baraka's council slate, West New York Mayor Felix Roque and former State Senator Bernard Kenny (D – Hoboken) were present, hinting at the nascent Hudson-Essex alliance created when Fulop endorsed Baraka last month.
That critical endorsement, combined with confidence after the FOP meeting, led Baraka to tell the crowd bluntly where he thought the Newark mayoral race was going, blocks away from the elevated NJ Transit tracks.
"We want people to be part of a train that's moving, because we're going to win," Baraka said. "It's a moving train, and if you don't got a ticket, you can't get on board."