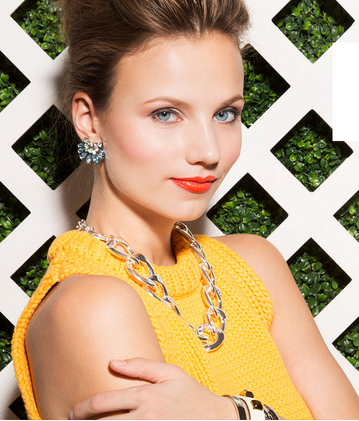 This post is part of a series on ecommerce startups.
When it comes to ecommerce, a loyal following is essential — and online jewelry retailer BaubleBar has just that. Simply mention the jeweler's name, and BaubleBar fanatics practically froth at the mouth.
Now, NYC-based BaubleBar is finally partnering with a department store to give their rabid fans a more permanent brick-and-mortar experience. Following in the footsteps of British retailer TopShop, BaubleBar will soon be selling its wares in Nordstrom stores.
It's not the first time BaubleBar has experimented with storefront experiences; they have a monthly partnership with Anthropologie and have also hosted pop-up stores of their own. We caught up with Daniella Yacobovsky, who cofounded BaubleBar with Amy Jain, to ask a few questions about the collaboration, which launches today in 35 top Nordstrom locations (posted below) across the United States, and on Nordstrom.com.
How did BaubleBar get its start, and why did you choose to go online instead of opening brick-and-mortar stores from the beginning?
In BaubleBar we're building the first branded go-to retail destination for fashion jewelry. We started the company as frustrated consumers who felt we didn't have one source for finding great product at a palatable price point – and with editorial context. We spent our entire second year at business school researching the supply chain and after graduating decided to build our own brand.
Ecommerce is far less capital intensive, which helped us in two ways. First it not only allowed us to get up and running much faster, but also allows us to iterate far quicker on a daily basis.  If your imagery isn't resonating or product isn't moving, it's rather easy to put together a new graphic design or upload new product. Perhaps most importantly, during our ecommerce only phase we really established a voice and identity for the brand, which we have been able to carry over to our offline initiatives.
BaubleBar is no stranger to brick-and-mortar partnerships. When did you decide to come up with something more permanent?
We've experimented with pop-up shops, and they've performed tremendously well for us. We've also done a few retail partnerships, most recently with Anthropologie, and have seen so much success from having an offline presence and knew we wanted to continue to expand the business in that area. We were really thoughtful about who our next retail partner would be, and luckily when we met with Nordstrom, we completely clicked from the beginning. For us, Nordstrom was a natural fit as they take a thoughtful approach to their retail strategy and aim to deliver the best customer service, just as we do. The goal here was to find a brand that shared the same core values with respect to the overall shopping experience, and the vision to engage consumers in new and interesting ways, which made Nordstrom the perfect partner!
What are the benefits and disadvantages of being online-only?
Being a digital first brand allows us to really get to know our customers. We know what our customer likes, what she dislikes and what she's looking for. By selling direct to consumer, we can deliver the best experience possible to the BaubleBar shopper. It also allows us to be incredibly nimble and to react quickly to customer feedback and market trends.
And what are the pros and cons of having a brick-and-mortar store?
It is really helpful when our customers are able to touch and feel our product in person – that tactile connection is something that can't be replicated online. That's why brick-and-mortar is still essential in some capacity; people want to interact with a brand and there's something really satisfying about the instant gratification of walking out of a store with that piece you just treated yourself to.  We have found that as the brand grows, and our customer base grows, she increasingly wants to interact with us across multiple channels since each has pros and cons from a shopper's perspective.
What kind of merchandise will be sold at Nordstrom? Will the same pieces be available online, too?
The collection includes necklaces, bracelets and earrings, ranging in price from $24 to $68. The pieces will be available in 35 top Nordstrom stores [starting March 31] as well as online at Nordstrom.com.
What are some of your favorite ecommerce companies besides BaubleBar? Do you often take cues from other retailers?
There are countless ecommerce companies and retailers that we really respect, consistently look to as innovators in the space, and perhaps spend a bit too much money at ourselves. We really love the way Sephora helps bridge the gap between online and offline channels – their social content and makeup tutorials are incredible and the way they have used channels like Pinterest and Instagram to educate their customers while building community are flawlessly executed. We are always blown away by the editorial at Net-A-Porter. Whenever we want to take afternoon breaks and go "window shopping," that's the spot for us. Also it's worth noting that their ship times are insane – we've both had those nights where an order gets placed at 3 a.m. and about 15 minutes later the shipping confirm hits our inbox. As we are also building complete fulfillment capabilities in-house, which is no small feat, we have a huge amount of respect for their operations team.
How has getting your start online changed your perspective on retail?
From the online perspective, we've been able to really engage with our customers and create a two-way conversation, which is extremely important. We want to hear feedback from our shoppers so that we can make their experience with BaubleBar better each time. We can also be very nimble with the business; we can easily see what's working, identify what's not, and react quickly when we need to. That said, we realize that since we are building a brand, and not acting as a third party-retailer, it's vital that we create opportunities for people to interact with the product in person.
What else can we expect from BaubleBar in the future?
We always have one core focus: to build the best brand in fashion jewelry, which requires that we listen to our customer and respond to her needs wherever she is. For the next few months that means giving her opportunities to interact with us offline, creating sleek mobile experiences for her, and continuing to engage in an active dialogue on social media.
Here's a list of which Nordstrom locations will carry BaubleBar goods:
Arizona
Scottsdale Fashion Square (Scottsdale)
California
The Americana at Brand (Glendale)
Brea Mall (Brea)
Broadway Plaza (Walnut Creek)
Fashion Valley (San Diego)
The Grove (Los Angeles)
Irvine Spectrum Center (Irvine)
Los Cerritos Center (Cerritos)
San Francisco Centre (San Francisco)
The Shops at Mission Viejo (Mission Viejo)
South Coast Plaza (Costa Mesa)
Topanga (Canoga Park)
Valley Fair (San Jose)
Colorado
Park Meadows (Lone Tree)
Florida
International Plaza (Tampa)
Town Center at Boca Raton (Boca Raton)
Illinois
Michigan Avenue (Chicago)
Oakbrook Center (Oak Brook)
Old Orchard Center (Skokie)
Woodfield Shopping Center (Schaumburg)
Nevada
Fashion Show (Las Vegas)
New Jersey
Garden State Plaza (Paramus)
Roosevelt Field (Garden City)
Pennsylvania
The Plaza at King of Prussia (King of Prussia)
Texas
Barton Creek Square (Austin)
Galleria Dallas (Dallas)
Houston Galleria (Houston)
NorthPark Center (Dallas)
The Shops at La Cantera (San Antonio)
Stonebriar Centre (Frisco)
Utah
Fashion Place (Murray)
Virginia
The Fashion Centre at Pentagon City (Arlington)
Tysons Corner Center (McLean)
Washington
Bellevue Square (Bellevue)
Downtown Flagship (Seattle)