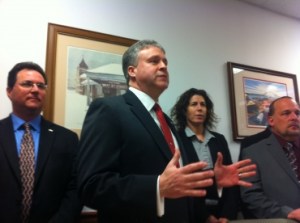 BAYONNE – A search of "Jimmy Davis Bayonne" on YouTube unearths less than flattering results for Davis, a Bayonne Police Department captain who is taking on incumbent Mayor Mark Smith in the Peninsula City's May municipal election.
One video, entitled "Meet Jimmy Davis", makes negative assertions about Patrick Desmond, a longtime friend of Davis and a veteran of the Hudson County political wars. The backdrop behind Davis and Desmond's faces: a foul, back-alley gutter.
The end of the 30-second video states it was paid for by a group called Bayonne Deserves Better. The question of who is behind this group is currently up for debate in Bayonne, with some political observers asserting that it is the campaign of mayoral candidate Anthony Zanowic.
But in an interview with PolitickerNJ.com, Davis fired back at who he claims is really behind the videos.
"It's Mark Smith doing it," said Davis. "I don't believe it's Zanowic's campaign. [Bayonne Deserves Better] is absolutely Mark Smith's campaign.
Davis' campaign has attacked Smith on YouTube with a series of videos showing closed storefronts as Bruce Springsteen songs such as "My Hometown" and "My City of Ruins" play in the background.
"The difference is that my videos will always be the truth," Davis said. "Drive down Broadway, and tell me what you see."
The Zanowic campaign also pointed the finger at the Smith campaign regarding the defamatory YouTube videos against Davis.
"The only official videos that we have put out are always labeled Paid for by Zanowic for Mayor 2014. Any other video, like the "Meet Jimmy Davis' video, those were not us," said Zanowic campaign spokesman Daniel Herrera, who is also running for city council in Bayonne's First Ward on Zanowic's slate. "I believe that these videos are coming from the Mark Smith campaign. They're trying to put the Davis and Zanowic campaigns against each other and distract people from taking a look at Mayor Smith's record."
"Mayor Smith made it clear on day one that everything his campaign issues will be fact and will have his name and paid for line on it. Mr. Davis and Mr. Zanowic cannot say the same thing. Any claims to the contrary are ridiculous," said Michael Makarski, Smith's campaign spokesman.
Davis added that he hopes that the campaign is decided on issues such as economic development and the four-year lack of a teachers' contract in Bayonne. But if the Bayonne mayoral campaign does go viral on the Internet, Davis wants something that may be next to impossible to ask for in Hudson County politics: for all sides to fight fair.
"If you want to put a video out, and you say it's me, first of all, you better be able to back it up," Davis said. "And put your name to it."